Best women's cycling jerseys 2023: short sleeved cycling tops for summer
Here are some of the best women's cycling jerseys to make the most of riding in the summer heat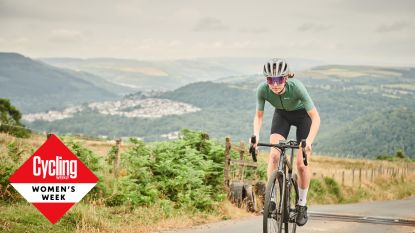 (Image credit: Future)
A women's cycling jersey, with short sleeves, that keeps you cool and comfortable is a necessity for enjoying—and performing on—warm weather rides.
Even when narrowing your search down to cycling jerseys with female specific cuts, there's an overwhelming choice of brands, styles, fits and cuts. But this also means you'll stand a very good chance of finding something to suit your preferences and budget if you know where, and what, to look for.
First, here are a few cues regarding what to think about when searching for a women's summer cycling jersey and then we share a selection of our favourites, for all needs and price points.
A good women's summer cycling jersey will sit fairly close to the skin and won't flap about in the wind. Some brands boast about the aerodynamic advantages of their fit, but be careful, a jersey too tight can have the effect of suffocating your workout—you need to be able to breathe and move freely.
To help with this, a fabric that offers a good deal of stretch is ideal. Some other qualities to look out for are fabrics that draw moisture away from your body, known as wicking, and are also fast drying.
Most cycling jerseys will have three rear pockets for carrying the basic necessities while out on the road. With these you'll want enough space for carrying nutrition, inner tubes, tyre levers and possibly a pump—but not too much that these supplies ferociously bounce around whenever you put down the power out the saddle. You will also find some with zipped pockets that offer better security for your valuables, such as house keys or smartphone. Some also come lined with water resistant material for added protection when you get caught in a summer shower. If you need more than the conventional 'three rear pockets', there are a few options, we've included one of those here. If you are hunting for this option, be sure to check construction; the increased load can often just compromise the main body fabrics.
We've selected some of the best jerseys available for Summer 2022, covering a range of budgets, tastes and purposes.
Best women's cycling jerseys for summer
Why you can trust Cycling Weekly Our expert reviewers spend hours testing and comparing products and services so you can choose the best for you. Find out more about how we test.
Best premium option for performance orientated riding
Specifications
Composition: 58%PA, 23%PL, 19%EA.
Sizes: XS-XL
Colours: Bluish Green, Rock Purple
Weight (M): 129g
Reasons to buy
+
Well-made
+
UV protection
+
Two year warranty
Reasons to avoid
-
No recycled fabrics
-
Only two colour options (at the time of reviewing)
This jersey lives up to the high standards associated with Assos - technical fabrics and quality construction with a reassuring two year warranty. It's all about performance on the bike, without compromising on comfort. Soft fabrics that hug the body, creating a streamlined, second-skin effect, offer excellent levels of breathability. Encouragingly, the rear offers UPF 30, the sleeves 50+.
The understated design is only available in two colours (at the time of writing), both rather dark, so it's not one for those who like eye-catching kit. Reflective detailing is minimal, so doesn't really compensate.
This is the most expensive jersey in our selection, so definitely a long-term investment and something you'll want to be getting plenty of use from. It offers more protection than the Velocio CONCEPT Radiator (that you will read about soon), so is better suited to mild-to-warm conditions than very hot ones.
Read more: Assos UMA GTV Women's Jersey C2 full review
Best premium option for hot weather and indoor training
Specifications
Composition: 50% Recycled Polyester, 40% Tencel, 10% Elastane
Sizes: XXS-3XL
Colours: Navy, White, Sky, Mango, Celeste
Weight:
Reasons to buy
+
Breathable
+
Lightweight
+
50% recycled fabrics
+
Inclusive sizing
Reasons to avoid
-
Only two colour options (at the time of reviewing)
-
Will reveal pretty much anything under it
-
No UPF on front or arms
Velocio's reputation for using recycled fabrics is maintained with the CONCEPT Radiator. The fabric's ability to wick and dry out is second to none - impressive for something that is made from 50% recycled drinks bottles. The price to pay for its breathability is transparency; there's really no hiding anything under this.
The cut and fit is all about aerodynamics, it's likely to appeal to those racing or training in warm climates, or anyone who likes to pull on a cycle specific jersey for an indoor sweatfest. It's even more akin to a skinsuit that Assos' UMA GTV with a noticeable absence of any kind of collar. If you are venturing out in the heat, it's worth noting that while the back offers UPF 30+ protection, there's no UPF on the front or the arms.
Construction and finishing are excellent, though there may be concerns over the durability of the delicate rear panel if pockets are regularly loaded; unlike Cafe du Cycliste's Floriane, there's no reinforcement.
The range of colours has increased since we reviewed this, with 'sky', 'navy', 'mango' and 'celeste' now on offer, as well as white.
Read more: Velocio Women's Concept Radiator Jersey full review
3. dhb Aeron Women's Short Sleeve 2.0
Best performance jersey for those on a budget
Specifications
Composition: 100% polyester
Sizes: 6-18
Colours: Festival Fuchia, Nectarine, Spectrum Blue, Porcelain Green, Roseate Spoonbill
Weight (XS) : 106g
Reasons to buy
+
Comfort
+
Vivid colour options
+
Value for money
+
Recycled fabrics
The Aeron collection is dhb's most extensive performance range, featuring products that are engineered to protect athletes in all conditions and keep them riding at optimal body temperature. The latest version of the women's short sleeve jersey from this range has undergone a significant overhaul. The main body is now made of recycled fabrics and finished with an anti-bacterial treatment for longer lasting freshness. Large mesh panels run from the underarms, diagonally across the back to the top of three drop-in pockets. Finally, the arm gripper bands have been replaced with laser-cut sleeve openings, providing a seamless transition between the jersey and your skin.
This jersey offers the snug fit you'd expect from a performance jersey, if that's not what you want, we'd recommend simply sizing up. The sleeves are longer than average, so it teams well with arm warmers.
It's breathable and moisture-wicking, with a weight that's comparable to Velocio's Concept Radiator. So, it's a great alternative to both this and Assos' UMA GTV C2 if you are watching the pounds but still value the race-focused design.
The colour choices are extensive with most tastes being catered for.
We think with the introduction of recycled fabrics, the performance cut and a very reasonable price, this jersey is one of the best value-for-money options for those wanting a race-orientated jersey.
4. 7mesh Women's Horizon Jersey
Great choice for long, leisurely rides and multi-day trips
Specifications
Construction: Body: 100% polyester
Sizes: XS-XL
Colours: Phantom, Shark, North Atlantic, Sun Rose
Weight (M): 146g
Reasons to buy
+
Quality fabric
+
Relaxed fit
+
Ample stroage space
+
UV protection
Reasons to avoid
-
Not as breathable as some
-
No recycled fabrics
This understated jersey from premium brand 7mesh offers a similar fit to Cafe du Cycliste's Floriane; its longer length and relaxed fit make it a great option for those craving comfort over compression and perhaps intending to spend time off the bike during rides. The fabrics are not as breathable as those on any of the jerseys mentioned so far, so this is a perfect choice for spring and autumn, and we'd say a good portion of summer if you live in the UK! Fabrics are anti-microbial treated, so this shouldn't need to hit the laundry pile after every wear.
The 'Anything modular pocket storage' is a real winner on the Horizon, it's a delight to use with a total of five pockets: three standard ones plus two (one small, one large) zipped ones. This pocket panel is only attached to the jersey at the top and at each end, so reduces the sag that can occur with a conventional set-up.
The overall design is a real contrast to Cafe du Cycliste's Floriane - plain and, for the most part, dark colours.
We recommend this jersey for anyone who enjoys long days in the saddle, perhaps with time out of the saddle in-between, and appreciates an understated design. With the anti-microbial treatment and extra pocket capacity, this would also be a great choice for multi-day trips.
Best recommendation for endurance riding and multi-day adventures
Specifications
Construction: 85% polyamide, 15% elastane
Sizes: 8-16
Colours: Atlantic Deep
Weight:
Reasons to buy
+
Technical, treated fabrics
+
Breathable
+
5 pockets
+
UV protection
Reasons to avoid
-
No recycled fabrics
-
Only one colour option
As you may have gleaned from the name, this is dhb's jersey specifically for ultra-riding and racing. It's undergone a revision since we tested (opens in new tab) it back in 2020. We loved it so much then, we're still recommending it now.
Fitting like a second skin, the featherweight Revolutional fabric dries rapidly and offers exceptional breathability. The coldblack finishing reduces the absorption of heat rays in dark colours, so it's ideal for those intending to ride in intense heat. Indeed, the biggest change from the first version to this one is the removal of the rear mesh panel to maximise UV protection; it has a UPF50+ rating and is resistant to sun cream and oil.
Just as with 7mesh's Horizon, storage capacity is well above average. A total of six pockets – including two drop-in pockets on each side – provide easy access to contents.
Finishing touches include bonded arm grippers, a wide silicone hem gripper, a reflective logo and seam tabs and an anti-bacterial treatment.
Sadly, the revised version of the jersey is only available in one single colour, hardly a striking one either. If this is of little consequence to you then we think the Aeron Ultra 2.0 is an excellent affordable option for endurance riding and multi-day adventures in warm-to-hot conditions.
Most trusted performer
Specifications
Compostiion:
Sizes: S-XL
Colours: Teal, Black, Air
Weight (S): 139g
Reasons to buy
+
Quick drying
+
Soft fabric
+
Plenty of storage space
+
Well-made
Reasons to avoid
-
No recycled fabrics
-
Side panels quite stiff
This is a pro level jersey that is constructed from quick drying fabric which allows you to work hard.
Hems are bonded, which might not appeal to all - they tend to have very little give and can pinch in places. The neckline is very low, reinforcing the aero-dynamic, breathable design. Sleeve length isn't as generous as with some of the latest race-orientated jerseys.
Our tester didn't find the jersey to be a perfect fit when hunkered down on the hoods and drops: 'I found that when on the bike, the fabric at the front puckered so that it didn't sit quite flat unless pulled down. I'd put this down to the side panels being overly stiff. As much as these strips may add to the cooling overall effect, they disrupted the flow of an otherwise excellently fitting garment.'
There's no shortage of storage space with this jersey; in addition to three traditional rear pockets, there are two lateral ones atop and a central, zipped one.
While Pearl Izumi doesn't have the premium brand reputation of Assos or Castelli, this jersey is priced close to them and we think that the quality and performance match the premium brands.
Read more: Pearl Izumi Women's Pro full review
Best premium option for leisurely spins and long, laid-back rides
Specifications
Composition: 85% polyester (recycled bottles) , 15% elastane
Sizes: XS-XL
Colours: Begonia, Petunia, Anemone, Sakura, Muguet
Weight (M): 138g
Reasons to buy
+
Recycled fabrics (partial)
+
Well-made
+
Comfortable, relaxed fit
+
Reinforced pocket structure
+
UV protection
Reasons to avoid
-
Floral design won't be for everyone
-
Premium price
The Floriane comes from Cafe du Cycliste's Centifolia collection, a range that sees the rapidly growing company incorporate recycled fabrics in their garments for the first time. This is a real plus in our opinion.
The floral theme, an acquired taste perhaps, is fresh and visually striking, and also available as a men's collection.
The cut is more relaxed than the premium Assos UMA GTV and Velocio Concept Radiator; there's plenty of length and, by using the size guide, you get a close fit rather than snug. This isn't one for the performance orientated riders seeking aero-gains.
Fabrics are comfy and accommodating. They are breathable enough for warm weather riding. While being no match for Velocio's CONCEPT Radiator in hot conditions, they certainly offer better protection in mild-to-cool conditions.
Cafe du Cycliste have put a lot of effort into the design with added reflective detailing and a brilliant, reinforced pocket structure to ensure the main body isn't compromised under the weight of loaded pockets.
Read more: Cafe du Cycliste Women's Centifolia Floriane jersey full review
A great option for indoor and outdoor riding under £100
Specifications
Composition: UNAVAILABLE
Sizes: XS-XXL
Colours: Black, Pink, Tuscan Yellow, Dewy Green
Weight (M): 110g
Reasons to buy
+
Lightweight
+
Breathable
+
Quick drying
+
UV protection
Reasons to avoid
-
Pocket sag
-
No recycled fabrics
-
No reinforcement at rear where pockets attach
Unique graphics represent the female XX chromosome markers on this lightweight Santini jersey which was the result of a collaboration with Lizzie Deignan. Each of the four design options uses bright colours for the rear pockets and right sleeve cuff, making you encouragingly conspicuous on the road - a nice contrast to Assos' UMA GTV C2.
The ultra-lightweight micro-mesh fabrics mean the jersey tips the scales at just over 108g, putting it on a par with Velocio's CONCEPT Radiator. When Hannah tested it she deemed it ideal for sweaty rides both in- and outdoors. It's certainly a performer in warm-to-hot conditions and is as breathable as Assos' GTV UMA. However, the overall design isn't as 'racy' as some...
Taller women will be happy with the cut; it's much longer in the body than most race-fit jerseys. The material accommodates lumps and bumps well, without feeling restrictive, but overall it's best suited to those with a boyish, athletic figure, so ideal for those with little difference between their chest and waist measurements.
The fabric's excessive 'give' does have its downsides... Loaded pockets tend to drag the jersey down. While the pockets are roomy enough to be well-loaded, it might not be best practice for the jersey's longevity; there's no supporting structure as with Cafe du Cycliste's to protect the delicate micro-mesh fabric, so longevity could be questionable.
We think this is an ideal choice for taller women wanting a technical jersey for a mix of riding.
Read more: Santini Tono Chromosome Women's Jersey full review
We hope these suggestions help you make the perfect choice—happy cycling!
Emma's first encounters with a bike were in between swimming and running. Soon after competing for GB in the World Age Group Triathlon Championships in Edmonton in 2001 she saw the light and decided to focus on cycling.
With a couple of half decent UK road seasons under her belt, she went out to Belgium to sample the racing there, spending two years with Lotto-Belisol Ladies team, racing alongside the likes of Sara Carrigan, Grace Verbeke, Rochelle Gilmore and Lizzie Deignan. Emma moved from Lotto-Belisol to Dutch team Redsun, working primarily as a domestique for Emma Johansson. When Redsun folded, Emma was offered the opportunity to ride with a newly formed Belgian team and home to the first year senior and budding rider Anna Van Der Breggen.

After retiring, Emma returned to teaching, setting up her own tutoring business. When not coercing kids to do maths, she is invariably out on two wheels. While the road bike remains her true passion, she has also developed an addiction to touring, with destinations including Iceland, Georgia and Albania, to mention just a few. There have also been sightings of Emma off-road, on mountain and gravel bikes… As if all of this isn't enough, she's been working as a freelancer since 2005, testing and reviewing the latest kit and sharing her insight into the sport.