Bike inner tubes: sizes, valve types and materials explained
Everything you need to know about what you pump up on your bike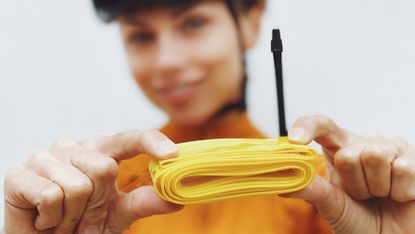 (Image credit: Pirelli)
It's one of those bits of cycling equipment that looks simple and standardised. But there far more to the cycling inner tube than meets the eye. We pull back the rubber and delve in to what it takes to make the best cycling inner tube, and how to find your ideal match.
There are lots of variables when it comes to the most concealed element of your bike. From size to valve type, weight to puncture resistance, finding the right inner tube will make a massive difference to your cycling.
Before we go on to sharing our top pieces of advice when it comes to finding the perfect inner tube, it's absolutely essential that you become confident with how to fix a puncture and mend an inner tube (opens in new tab), to make sure you get home from a ride safe and sound.
Inner tube sizes
When it comes to inner tubes, size really does matter. There are two sizes you need to know in order to ensure you buy the correct inner tubes for your bike wheels and tyres.
Inner tube size diameter:
First up is the tube's diameter. Most of the best road bikes (opens in new tab) will have 700c wheels and need 700c tubes to fit.
But, more recently there's been a bigger influx of other bike wheel diameters now, with some of the best gravel bikes (opens in new tab) like the Specialized Crux (opens in new tab) coming with a choice of 650b or 700c wheels. It's also the size used on smaller sizes of the best hybrid bikes (opens in new tab), because it allows space for a larger more forgiving tyre or a deeper tread pattern for muddier rides.
Checking what size diameter wheel size your bike currently has is pretty straight forward as the rim, or existing tyres will have this imprinted on them somewhere, or you can check your model with the brand directly.
If you can't see any labels, you can always measure, in millimetres, from the centre of the wheel to the edge of the tyre and then multiply it by two for the wheel diameter.
If you didn't know your wheel size, then chances are that this exercise has got you up close and personal with the moving parts on your bike for the first time. You might now be wondering if you need to replace these too.
Panic not, now you know what diameter wheels you have, you can read more about the best road bike tyres (opens in new tab), or more on our reviews of the best road bike wheels (opens in new tab) for more hints and tips on replacing these.
Inner tube size width:
Next is the tube's width. Many 700c tubes come to fit tyres up to 25mm in width, which are often fitted to road bikes, although it's increasingly common for even 28mm tyres, to be fitted to road bikes.
Cyclocross and gravel bikes and many city and hybrid bikes with 700c wheels will have wider tyres still.
It's important to use the correct inner tube width size as much as it is diameter size.
Bike inner tubes for narrower tyres will usually fit these wider tyres; they will just be a bit more stretched out to fill the space. They're unlikely to burst, but if you get a flat they may go down more quickly. On the other hand, a wider inner tube may be awkward to get into a 25mm tyre.
By choosing the right tyre and tube combo, you can be sure of optimal performance, and no preventable flats.
Word of warning, before you invest in that great tyre and tube bundle deal, you need to also be sure that your wheel rim is suitable for the width, and the wheel will still rotate in your bike without fouling the frame.
Again, much like the working out the required tube diameter, the width of tube will be on your bike's existing tyre, normally with the diameter size. It will read something like 700x25c which means 700 diameter wheel with a 25mm tyre.
Our sister website MBR has lots of helpful information on the best mountain bike tyres, including their sizes, which are usually stated in inches. So a 29 inch MTB tube will have the same diameter as a 700c road wheel, while a 27.5 inch tube will be the same diameter as a 650b road wheel. You can also get 26 inch MTB tubes. But since MTB tyres are typically wider than road tyres, they may be too wide to fit, even on one of the best gravel bike tyres.
Mountain bike tyre sizes are usually stated in inches. So a 29 inch MTB tube will have the same diameter as a 700c road wheel, while a 27.5 inch tube will be the same diameter as a 650b road wheel. You can also get 26 inch MTB tubes. But since MTB tyres are typically wider than road tyres, they may be too wide to fit, even in a gravel bike tyre.
Schrader Vs Presta valve?
Presta valve inner tube
Why you can trust Cycling Weekly Our expert reviewers spend hours testing and comparing products and services so you can choose the best for you. Find out more about how we test.
Most bikes come with wheels that use presta valved tubes. These valves are quite narrow and have a screw at their valve tip. You need to unscrew it to get air into the tyre. Although the tyre will stay inflated with the screw loose, it's a good idea to close it up so that you don't accidentally let air out of your tyre. And a valve cap will stop muck getting into it when riding.
Some presta valves come in one piece, while others have cores that unscrew from the valve body. You can often unscrew them by hand or by wrapping them in a piece of old cloth or rubber and delicately using a pair of pliers. There are also core removal tools available.
A removable core can be replaced if it gets damaged – the screw part is prone to getting bent. The disadvantage is that you can unscrew the core by accident when removing a screw-on pump, undoing all your hard work pumping the tyre up.
The benefits of a presta valve inner tube are:
They are lighter and smaller, so require a smaller hole in the bike rim to fit through, keeping rim integrity, and don't penalise the rider with uneven weighting of an inner tube.
Can withstand high air pressure and have a better air tight seal than alternative valve options.
They are extendable, so you can use longer ones if you have deep section wheels
Schrader valve inner tubes
Some bike inner tubes have Schrader valves like those used on car tyres. These won't fit into a wheel drilled for a presta valve. Likewise, if your wheel has a valve hole the right diameter for a Schrader valve, a presta valve will not fit securely and there's a risk the tube will get pinched in the valve hole and blow out.
Schrader valve are large, and as above mentions, you'll need your rim to fit one. Not an issue on a mountain bike with much wider rims, but on a road bike it's not exactly ideal to put a large hole in your rim to fit it.
That said there are still some perks to running schrader valves if you can:
Schrader valves are industrial, as seen on cars and trucks, so assuming you don't get a unrepairable flat, they will keep going for years.
They are less vulnerable to getting bent/ needing the internals replacing.
You can get a large volume of air in quickly with the right pump, and use the same pump as you do for a car to inflate them.
Woods valve inner tube
There is in fact a third valve choice, the Woods valve, aka Dunlop valve. It's more of a rarity than both presta and schrader. This looks like a presta valve, but has a collar holding the valve core in place.
Depending on your view point, this is either best or worst of both worlds. If you are considering, remember that your wheel will need to accept a valve the same size as a Schrader, and not all modern pumps will fit onto a Woods valve because of the collar.
There are limited benefits to a Woods valve inner tube:
Less likely to bend than a presta valve when being pumped to high pressures
Capable of letting a little air pressure out like a presta valve
A comprise for presta loving riders, but who have schrader size holes in rims.
Valve length and valve extenders
The last thing to think about when buying an inner tube is valve length. If you've got deep section wheels, you'll need bike inner tubes with longer valves to make sure that they protrude through the rim. Some valves can be as long as 8cm. And you don't want to get a flat out riding and find that your spare tube's valve isn't long enough to attach a pump – believe us, we've been there.
If you are thinking this might apply on your next pair of wheels, and are wondering how do you choose the perfect rim depth for you? (opens in new tab) head over to the page via the link to read a lot more about selecting your perfect pair.
If your valve is still not long enough for your deep section wheels, you can buy valve extenders. These screw onto valves and can add enough extra length to fit the deepest aero wheels.
You can get these for easily for presta valves, but they're rather rare for schrader valves, and I've personally not come across one for a wood valves, but I'm sure if you searched hard enough some one has made one.
Rubber Vs Latex bike inner tubes
The majority of inner tubes will be made of butyl rubber. It's the least expensive material and also the most robust. A butyl tube will be black and is repairable with a standard puncture kit if you get a flat.
Inner tube manufacturers often also have lighter weight butyl tubes in their line-ups. These are just made of thinner rubber. The weight saving comes at the expense of a bit more fragility though, so you need to be more careful not to pinch a lightweight tube when fitting it. They are also likely to be more prone to punctures.
Finally, there are latex tubes. These are the lightest option and also roll faster than butyl. But they are even more fragile than lightweight butyl tubes and harder to fit. And they leak air more quickly than a butyl tube, so you need to re-inflate them before each ride. They can't usually be repaired if they do get a flat either.
We've dedicated a page specifically pondering the question of are latex inner tubes worth the hassle? (opens in new tab) which is well worth a visit if you are thinking of making a purchase.
Also be careful using latex tubes in rim braked carbon clincher wheels. Because carbon rims don't transmit heat as quickly as alloy ones, prolonged braking on descents can lead to hot spots on the rim, which in turn can damage the tube leading to failure.
If you don't drag your brakes on a descent this is unlikely to be a problem, but if you're an inexperienced descender it's something to be aware of.
Where to buy bike inner tubes
You can pick up inner tubes from any bike shop, and the staff will be more than capable of helping you find the right size, width, material and brand. If you feel a little more confident then you can easily order on line too.
In the USA we find that stores such as Wiggle (opens in new tab) offer a great deal of choice and you order any extra bits like valve extenders or sealant in one go.
Competitive cyclist has a great range of performance bike inner tubes, so the place to head to if you if you are searching for latex inner tubes.
REI (opens in new tab)has a good value house brand of inner tubes in both presta and schrader valve options, as does Decathlon (opens in new tab).
If you are after options of the more gravel and off road variety, JensonUSA (opens in new tab) is a great one stop shop for all your needs.
Of course, if you are needing some in a hurry and can't get to a bike shop, then Amazon (opens in new tab) is always worth a visit for a super quick delivery.
But we absolutely love Mikes Bikes (opens in new tab) for their recycling inner tube scheme.
The best bike inner tube shops are similar in the UK, with Wiggle (opens in new tab) and sister brand Chain Reaction Cycles (opens in new tab) both offering a good selection to choose from.
Decathlon (opens in new tab) has a good range of house brand bike inner tubes with both Presta and Schrader valves on offer.
If you are looking for something performance wise Sigma Sports (opens in new tab) has a great selection of fast rubber and latex.
Again, Amazon (opens in new tab)is probably the best bet for a bike inner tube in a hurry if you can't make it to your local bike shop.
Tubeless bike tyres
While this page is dedicated to all things inner tubes, it would be remiss of us not to mention doing away with them all together in favour of going tubeless.
They've been around for a while for mountain bikes and there are an increasing number of tubeless tyres available on road bikes.
To run tubeless, you need a tubeless ready wheel and tyre. More new road bikes are coming equipped with tubeless-ready wheels and most aftermarket wheelsets you can buy are tubeless compatible too. Don't try to set up tubeless if you don't have both of these, as you risk the tyre blowing out when riding. It's worth giving our tubeless tyres: are you doing it properly? (opens in new tab) advice page a read to help you with any conversion issues.
Tubeless tyres use a separate presta valve that screws into the rim and has a rubber end to make a seal. Having put the valve in the rim, you mount the tubeless tyre. This has a tighter bead than a normal tyre, so it can be hard work to get it onto the rim.
You also need to invest in some of the best tubeless sealant to ensure that you stay as inflated and puncture free for as long as possible.
Getting an airtight seal to the rim can also be tricky. You need to add sealant to the tyre. This helps with getting the tyre airtight and usually deals with small punctures when out riding.
But it may not seal a larger hole successfully, so it's a good idea to still carry a spare tube, tyre levers and a pump just in case of a major leak.
Sealant tends to dry out over time, so you may need to top up. This is where the removable valve core comes in. Most sealants come with a nozzle to let you squirt sealant through the valve once the core has been removed. Milkit (opens in new tab) also sells an inner valve kit which lets you check you sealant level and top it up through the valve, which you can buy on Amazon (opens in new tab)direct.
Solid rubber tyres
There's also the option of puncture proof (opens in new tab) solid rubber tyres, which will rid you of inner tube problems for ever, although at the expense of ride quality, which we found when we tested the Tannus Aither 1.1 25mm solid tyre (opens in new tab).
Are all solid tyres worth a try? (opens in new tab)We weighed up the pros and cons especially for winter riding and found there will be some limited appeal, but until the construction and feel of the ride is developed, solid rubber tyres won't be your bike's first choice.
Puncture proof bike inner tubes
If your tube has a removable core, you can get additional puncture protection by adding sealant to it. You take out the core, add around 25 to 30ml of sealant and refit the core. Again, this may not deal with the largest holes, but may help keep you going. But if you do flat, the sealant may stop a patch from adhering to the tube, so it's a good idea to carry a spare to get you home.
We've picked our favourites in our best puncture proof tyres (opens in new tab) buyers guide, and included lots of helpful hints and tips for how to find the best option for you.
Watch out if you have latex tubes though, as some sealants can degrade the latex over time, causing it to fail. This can also be a problem with tubular tyres, where the tube sewn into the tyre is often thin and made of latex.
Finally, you can buy bike inner tubes already filled with sealant, for an easy way to get some additional puncture protection.
Thank you for reading 10 articles this month* Join now for unlimited access
Enjoy your first month for just £1 / $1 / €1
*Read 5 free articles per month without a subscription
Join now for unlimited access
Try first month for just £1 / $1 / €1
Hannah is Cycling Weekly's longest-serving tech writer, having started with the magazine back in 2011. She has covered all things technical for both print and digital over multiple seasons representing CW at spring Classics, and Grand Tours and all races in between.
Hannah was a successful road and track racer herself, competing in UCI races all over Europe as well as in China, Pakistan and New Zealand.
For fun, she's ridden LEJOG unaided, a lap of Majorca in a day, won a 24-hour mountain bike race and tackled famous mountain passes in the French Alps, Pyrenees, Dolomites and Himalayas.
She lives just outside the Peak District National Park near Manchester UK with her partner, daughter and a small but beautifully formed bike collection.