Best turbo trainers 2022 reviewed and rated
If you're after a smart turbo trainer, or just a basic one, here's our guide to every type of turbo on the market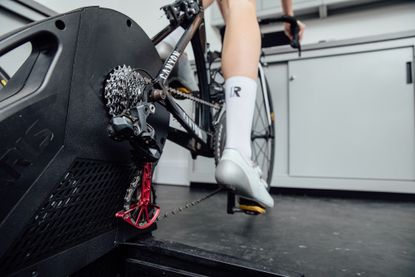 (Image credit: Future)
One of the greatest benefits that the best turbo trainers – whether 'smart' or 'classic' – is that they allow you to get in a quality workout, without worrying about the weather. Just make sure to use a fan so you don't end up wetter than you would outside.
Since the advent of smart turbo trainers, there is now the option to pair up with apps that immerse you in a virtual reality cycling world, rather than just setting the resistance level yourself. Our page on indoor cycling apps compared: Zwift vs TrainerRoad vs The Sufferfest (opens in new tab) directly looks at the differences between the most popular ones.
Part of the attraction of turbo trainers is that they are easy to fold up and store once you've finished your session. But if you are looking for a more permanent indoor setup, then our guide to the best exercise and best smart bikes (opens in new tab) should help you decide what sort is right for you.
We've also looked at the alternative of rollers towards the bottom of the page and we've got a separate guide to the best bike rollers if you want more details.
Although the depths of winter is the peak time for turbo trainers, there are still plenty of deals to be scooped up any time of year – from a combination of retailers offering 'loss leading' discounts and new releases devaluing older models.
Our pick of the best smart turbo trainers
We've ridden and rated the top-selling smart trainers below, using Zwift (opens in new tab) as the virtual testing ground, taking into account their user-friendliness, functionality, features, and price for an overall score.
We recognise that the top smart turbo trainers are a big investment, so if you are on a tight budget you'll be pleased to hear it's still possible to get a cheap Zwift setup. (opens in new tab)
If you are totally new to turbo training, our beginner's guide to indoor cycling (opens in new tab) has everything you need to get you up and running.
Bikes attach to turbos in two ways: with the 'wheel-on' type your bike is fixed to an A-shaped frame and its rear wheel drives a roller; with the 'direct drive' type you remove your bike's rear wheel and attach it directly via its dropouts to the turbo, which includes a cassette. Our wheel-on vs direct drive turbo trainers (opens in new tab) page weighs up the pros and cons of both.
High-end turbo trainers grouptest
Best for all-round performance
Specifications
User friendly easy connectivity: ANT+, Bluetooth Smart
Smart Max Resistance: 2,200W
Max gradient simulation: 20%
Flywheel: Electromagnetic
Compatibility: Shimano/SRAM 10/11 speed
Thru-axle compatible: included
Weight: 22.0kg / 48.5lb
Reasons to buy
+
Easy to set-up
+
Smooth feeling erg mode
+
No need to zero-offset
+
Folds away small
+
Comes with 11-speed cassette
+
Works with front-wheel riser unit
Reasons to avoid
-
Short middle leg reduces fore/aft stability when sprinting
The Wahoo Kickr has been around for a while now, with updates to the trainer generally being more incremental than transformative. But considering the performance of each version, that's no bad thing.
For the V5, Wahoo has added feet to reduce vibrations from the trainer and to add a little sway, as well as increasing the claimed accuracy from ±2 per cent to ±1 per cent and removing the requirement to manually calibrate the trainer.
With a horizontally oriented carry handle, the Kickr is by far the easiest trainer of the grrouptest to transport – even for its hefty weight. When it comes to packing away, the legs snap easily together and the height of the axle can be lowered to result in a really quite low profile package.
Although the central leg of the Kickr appears quite long, the amount it extends past the rear axle of the bike is actually quite short. This allows the turbo to rock fore and aft quite a bit when putting in an all-out effort, shuffling you closer to the monitor.
The Kickr still feels more solid than the Tacx Neo 2T, but less so than the Saris H3. the distance of movement is pretty much the same as the Elite Direto XR-T, but the Elite feels like more of a shuffle than a rock.
In terms of the resistance for sprinting, there is a bit more of a flywheel spin up than on the Saris and the Elite, but not mimicking a 'road' feel quite as much as the Tacx. It's a halfway house that works pretty well for both ends and doesn't result in an annoying number of shifts.
The erg mode feels very refined, just like the Tacx, with a satisfying feeling of souplesse and a proportionate responsiveness to changes in cadence – it wouldn't overcompensate when you drop a few RPM.
It would take a little longer over increasing the resistance than the rest of the turbos, so when doing a 30s on / 30s easy session, the average watts for the intervals was a little lower than what was set – but that is preferable to coming on like a wall and you can increase your sets by a few seconds to compensate.
For added realism, you can pair the trainer with the Kickr Climb to have the bike rise and fall on the virtual gradients. Also, for Zwift racing, the Kickr was by far the fastest to read zero watts once having stopped pedalling, boosting your ability to snatch some rest on the descents.
If it wasn't for the fore/aft stability issue when sprinting, the Kickr would get a full five stars for its excellent erg mode and its great functionality for virtual riding and racing. The price, although high, isn't out of line either.
Best for realism
Specifications
Connectivity: ANT+, Bluetooth Smart
Smart Max Resistance: 2,200W
Max gradient simulation: 25%
Flywheel: Electromagnetic
Compatibility: Campagnolo/Shimano/SRAM 8-12 speed
Thru-axle compatible: with adapter supplied
Weight: 21.5kg / 47.39lb
Reasons to buy
+
Rapid and realistic resistance adjustment
+
Inbuilt rocker
+
Simulates cobbles and other surfaces
+
No need to zero-offset
+
Can function without a power supply
Reasons to avoid
-
Lack of compatible riser unit limits immersion
-
Hard to transport as no handle
Being the most expensive trainer on test, naturally it's also the one which offers the most in terms of added features. Equally, in charging such a premium, Tacx has set a very high bar for itself that it now has to clear.
Just relating to its packability, the Neo 2T isn't as user friendly as the other turbo trainers. Folding the legs up – rather than just sliding them together – presents a bit more of a faff, while the lack of a single carry handle means that the turbo requires a full two hands to port it around.
But when set up, the Neo 2T does deliver a pretty unique riding experience – for one thing, it's able to simulate the sensation of riding over cobbles, wooden boards and other surfaces really quite realistically by just modulating the resistance through the pedals. You might have thought some form of jolting or vibration would be necessary but, from my experience, surprisingly not.
There's also a large degree of inbuilt flex to better simulate the natural sway of riding outdoors. Wahoo has attempted something similar with its new feet for the Kickr, but the result is much less noticeable.
Finally, the Neo 2T's electromagnetic flywheel really nails the feeling of sprinting out on the road. You get that feeling of massive torque as you first stamp on the pedals and get the gear turning, with that resistance quickly easing off as you spin up to speed – requiring fast, repeated shifts down the cassette to match that speed.
It's all very impressive, but for sprints and hard efforts on the turbo, realism can be more of a hindrance than a help. That inbuilt flex makes the turbo feel a bit of a noodle and really hampered my top-end power output. Also, the lifelike mimicking of the resistance when sprinting means that you're forced into really, really shifting through the gears, increasing the chances of a miss-shift as well as cognitive load.
Of course, perfecting your gear shifts while sprinting is a skill that's necessary to learn, but that's best done when out on the road, actually sprinting, and honing your handling and body position at the same time. On the turbo, it's generally nicer to just focus on the effort.
The erg mode felt super fluid and the changes to resistance felt very natural – even for large swings, as in a 30s on 30s easy session. An added bonus is that the trainer doesn't need to be calibrated, so you can just hope straight on and go, which is always nice. Also, the watts drop to zero pretty quickly, so it's good for that aspect of Zwift racing, if not so good for sprinting.
In all, the lack of a good carry handle, the instability and resistance curve for sprinting and the high price all count against the Tacx Neo 2T. It ranks very well for realism, with that sway, resistance curve and surface simulation, but the lack of matching riser unit availability does make it difficult to fully recommend as the 'ultimate realism experience.'
Best for stability in sprints
Specifications
Connectivity: ANT+, Bluetooth
Smart Max Resistance: 2,000W
Max gradient simulation: 20%
Flywheel: Electromagnetic
Compatibility: Shimano/SRAM 9/10/11
Thru-axle compatible: included
Weight: 21.3kg / 47lb
Reasons to buy
+
Great for sprinting and hard efforts
+
Lack of novelties is reflected in the price
+
Quick and easy to pack away
Reasons to avoid
-
Less immersive riding experience than Wahoo, Tacx or Elite
-
Power blips when freewheeling and need for manual zero-offsetting are frustrating for eRacing
The Saris H3 is the most pared back of all the trainers on test. In terms of extras, there's no option for a riser unit to lift the front wheel, there's no inbuilt rocking function to simulate the sway of a bike or any other novelties to add to the indoor riding experience.
Instead, the H3 is all about delivering a solid platform for hard efforts – which could very well be all you're after. There's little point in paying extra for features you're not going to benefit from and the H3 does undercut the Wahoo Kickr and Tacx Neo 2T on price.
Although not the heaviest, the Saris H3 is the most solid direct drive turbo I've come across for sprints. That's not to say it stays perfectly in place – not even the Tacx Neo Bike Smart does – but it represents a significant step up from other trainers. Like the Elite Direto XR-T, the resistance curve when sprinting also has a good feel to it, not requiring an excessive number of shifts as you wind up the watts.
Packing the turbo away, the legs fold elegantly into the body, leaving a width comparable to the Elite Direto XR-T, but having a significantly shorter footprint and standing a little lower. The carry handle is in essentially the same position as the Direto XR-T, which means carrying it around is equally more cumbersome than the Kickr.
The sensation of the erg mode is kind of middle of the road. I didn't have any issues with death spirals of ever increasing resistance and the changes in resistance didn't catch me by surprise. But it did lack a bit of a feeling of souplesse that the Tacx Neo 2T and Wahoo Kickr have been able to capture.
Onto the negatives, the fact that you do have to manually perform calibration spindowns to keep the power numbers on track, adds a bit of extra faff. Also, the body of the turbo doesn't play nice with thru axle handles or bulky multitools – you have to use the long end of an Allen key to screw in the axle most of the way and finish the last bit in 3/4 turns.
Finally, although the H3 drops to zero watts impressively quickly when you stop pedalling – about the same amount of time as the Tacx – it consistently gives a 10 watt spike just afterwards, which will pull your avatar out of the 'supertuck' position for another couple of seconds.
Overall, the Saris H3 is a solid option that undercuts both the Wahoo Kickr and Tacx Neo 2T. But when you're already spending around a grand, saving £100 and compromising on the features of the Kickr feels like a false economy – unless you are on a very tight budget or really value the sprinting stability.
Best for grabbing on a discount
Specifications
Connectivity: ANT+, Bluetooth
Smart Max Resistance: 3,600W
Max gradient simulation: 24%
Flywheel: Electromagnetic
Compatibility: Shimano/SRAM 9/10/11
Thru-axle compatible: included
Weight : 16kg / 35.3lb
Reasons to buy
+
Reasonably priced
+
Wide range of axle and freehub compatibility
+
Available with riser unit
+
Fast changes to resistance
Reasons to avoid
-
Clunky feeling erg mode
-
Shuffles around during sprints
-
Needs to be manually zero-offset
-
Watts take a long time to drop to zero for 'super-tucking' on Zwift descents
The Direto XR-T comes shipped in its packed-away state, so setting it up straight out of the box is much the same as setting it up for a turbo session. Simply spread out the legs and hand tighten the screws to lock them in place – it takes about 20 seconds at most.
With a relatively narrow profile once the legs are folded away, finding a home for it between sessions isn't much of a challenge, although being a little taller and longer than the other turbos on test does make it a touch more imposing. The placement of the carry handle isn't a natural feel for its centre of gravity, however, so lifting the turbo does feel more awkward than its (relatively) light weight would suggest.
Putting in some sprints and harder efforts, that lighter weight of the Direto XR-T does make itself known, shifting and sliding around. But with that said, the wide platform means that it never felt unstable at all, even if you can end up making it a reasonable way across the room.
In terms of the turbo's resistance when winding up a sprint, there's a nice, even sensation to it, reducing the number of gear shifts you need to make compared to other trainers – such as the Tacx Neo 2T in particular. The main benefit is to save wear on your drivetrain and allow you to focus on the effort, more than coordinating shifts.
Of all the trainers on test, the Direto XR-T's erg mode, unfortunately, really stands out. When an erg mode is working as it should, the trainer will adjust its resistance to keep you held at a set wattage – pedal faster and it will reduce the resistance; pedal slower and the resistance will increase. It's a good system for forcing an effort when you're lacking the mental will to ride the set pace.
With the Direto XR-T, if you drop your cadence slightly, it will immediately ramp up the resistance – in turn, often causing another drop in cadence and thus precipitating something of a death spiral of ever increasing resistance.
Similarly, when doing a session such as 30s on / 30s easy, you'll want to really spin up your legs before the 'on' interval starts, otherwise you'll feel like you've cycled straight into a brick wall.
On the other hand, this super fast ramping up of the resistance is great for rolling courses on Zwift, with sudden and repeated gradient changes. Combined with the option of pairing this turbo with a riser unit (not reviewed), Elite stands to offer a pretty immersive virtual riding experience.
However, one important feature of Zwift racing is 'super tucking' on descents – stop pedalling and your avatar will assume a more aero position and you can catch your breath for a second. Once you stop pedalling with the Direto XR-T, though, it takes well over 10 seconds for it to actually register that you've stopped pedalling, essentially ruling out that technique.
If you aren't a heavy user of erg mode or an avid Zwift racer, the overall performance is really quite good and the trainer can often be found at a hefty discount. But compared to the other trainers on test, the performance is lacking and the full RRP isn't low enough to make the sacrifices worthwhile.
Verdict
Although we've ranked these trainers with their star rating, each has its own unique selling point. There are possible circumstances where each of these four trainers could be the best buy for someone's particular situation. But with that said, there are also certainly typical use cases and we've ordered the trainers in terms of how they perform for a general audience.
Starting from the bottom, the awkward erg mode of the Elite Direto XR-T, combined with its issues of sprinting stability and the long wait for it to read zero watts when freewheeling, compromise the trainer for both more traditional indoor training and Zwift racing.
For the relatively small increase in price, most people would be much better off going for the Saris H3 – or else investing a bit more still and opting for the Wahoo Kickr V5. The Elite Direto XR-T can often be found on a hefty discount, though, and if you aren't fussed about the erg mode or an extra edge for eRacing, then it can represent a real bargain.
The Saris H3 offers the most stable platform for sprinting and a perfectly serviceable erg mode. It misses out on some of the features of the Tacx Neo 2T and Wahoo Kickr, such as road surface simulation and the option to later add in a riser unit.
The need to manually calibrate, a slight power blip when freewheeling and an awkward body shape for thru axles are all downsides which can be solved by spending an extra £100 and opting instead for the Kickr. But if you're on a tight budget and sprinting stability is paramount, the H3 is a great option.
Most expensive on test, the Tacx Neo 2T delivers a highly impressive degree of realism, with built in sway, the ability to simulate different road surfaces, and a lifelike resistance curve for sprinting. However, the lack of a riser unit within Tacx's range does severely dent its ultimate realism credentials, the sway and resistance curve compromise the trainer for sprint efforts and the trainer is the most awkward to pack away.
Of course, those features might well be convincing enough, especially when the excellent erg mode and lack of a need to manually calibrate the unit are thrown in. There are certainly situations where the Neo 2T would be the best tool for the job – if you can stomach the price – but it's not exactly a unit for the everyperson.
That leaves the Wahoo Kickr V5. This trainer isn't without its own idiosyncrasies: the relatively short central leg reduces its stability in a sprint – the Saris H3 is much better in that department.
But with an erg mode of similar souplesse to the Tacx Neo 2T, simple and compact packability, a very short time to read zero watts from stopping pedalling and not needing to be manually calibrated, the Kickr ticks more boxes than any of the other trainers on test. And it's not outrageously expensive – at least compared to other top-of-the-range direct-drive turbos.
Spec comparison table
| | | | | |
| --- | --- | --- | --- | --- |
| | Elite Direto XR-T | Tacx Neo 2T | Wahoo KICKR V5 | Saris H3 |
| Gradient simulation | 24% | 25% | 20% | 20% |
| Claimed accuracy | ±1.5% | ±1% | ±1% | ±2% |
| Max power | 3,600w | 2,200w | 2,200w | 2,000w |
| Frame compatibility | 130 and 135mm QR, 142x12mm, 135x12mm, 135x10mm, 148x12mm, 157x12mm | 130 and 135mm QR, 142x12mm, 148x12mm, 135x12mm, 135x10mm | 130 and 135mm QR, 142x12mm, 148x12mm | 130 and 135mm QR, 142x12mm, 148x12mm |
| Freehub compatibility | Shimano HG11, SRAM XDR, Campagnolo, Shimano Microspline | Shimano HG11, SRAM XDR, Campagnolo, Shimano Microspline | Shimano HG11, SRAM XDR, Campagnolo | Shimano HG11, SRAM XDR |
| Automatic zero offset | No | Yes | Yes | No |
| Available with riser unit | Yes | No | Yes | No |
How we tested power accuracy
We hooked up a bike sporting the new Dura-Ace power meter crankset and a set of Garmin Vector 3 pedals (the updated version, not the original model that was beset with accuracy issues) to provide some context for the power numbers the trainers were putting out across a range of intensities. Both these power meters have a claimed accuracy of ±1 per cent.
Now, this test is in no way scientific. In using what amounts to a sample size of one for each of the power meters, there is scope for having been very unlucky and simply received a dud unit – which wouldn't give a fair representation of the power readings that most people would be likely to receive from that model overall.
But with that said, it is interesting that both the Tacx Neo 2T (claimed ±1 per cent) and the Elite Direto XR-T (claimed ±1.5 per cent) match up more closely with crank and pedals than the Wahoo Kickr V5 (claimed ±1 per cent).
It at least goes to show that if power data from your various sensors is very important to you, there's no substitute for testing directly against each other – particular units from model families with a high claimed accuracy can put out quite different numbers to what you'd expect.
High-end turbo trainers honourable mentions
Best lightweight smart turbo trainer
Specifications
Connectivity: ANT+, Bluetooth
Smart Max Resistance: 2,300W
Max gradient simulation: 24%
Flywheel: Electromagnetic
Compatibility: Shimano/SRAM 9/10/11
Thru-axle compatible: included
Weight: 19.2kg / 42.3lb
Reasons to buy
+
Weight relatively low (helpful when setting up)
+
Accuracy of data
+
Stability when in use.
+
Quick-changing resistance
Reasons to avoid
-
Size of system
-
Requires some assembling
The latest Elite Drivo II was designed to improve on everything the original Drivo was. That means better road feel, better response to terrain change in apps like Zwift and improved power accuracy.
This is the first smart turbo we've used that requires some self-assembly. It isn't that complicated and a wrench and an Allen key are supplied. You don't get a cassette but you do get thru-axle compatibility.
Once the legs are in place you have yourself a big unit: set up side-by-side with a Saris H3, Wahoo Kickr or even Tacx Neo there's no denying the Drivo II is portly.
There's the added issue of the retractable legs that don't sit flush with the unit when the arms are folded in. You can't leave the legs out if you want to move the Drivo II as it won't fit through the door! The upside is this makes for a wide footprint, and combined with the low centre of gravity makes it very stable. Even during big efforts the Drivo remains planted.
Pairing with Zwift was simple and just riding Watopia we were very impressed with how fast and refined the Drivo II changed gradient: it can go from zero to 24% gradient in three seconds – although Zwift itself tops out at 22%.
The Drivo II claims to be one of the quietest but it does fall short of its competitors, such as the Wahoo. Accuracy is said to be the best on the market at +/- 0.5%, and the Drivo II is factory calibrated, never needing a zero offset.
Best mid-range turbo trainers
Best smart trainer for features for a wallet friendly price
Specifications
Connectivity: ANT+, Bluetooth
Smart Max Resistance: 1,500w
Max gradient simulation: 10%
Flywheel: Electromagnetic
Compatibility: Shimano/SRAM 8/9/10/11
Weight: 21.3kg / 47lb
Reasons to buy
+
Realistic ride feel
+
Simple connectivity with third party devices/software
The Flux is Tacx's direct drive trainer that comes at a more wallet-friendly price, making it an ideal turbo trainer for anyone watching their budget. Out of the box the Flux is simple to set up and the easy to use smartphone app enables control of the smooth, powered resistance unit.
The Flux can be adjusted to apply resistances equal to a 16% climb which is good for most hill training but lacks the 25% capability of the Neo for true mountain goat wannabees. It doesn't feel quite so natural and 'bike-like' as the Neo or Wahoo Kickr due to the lack of motor-driven freewheeling capability, but is certainly better than most high-end wheel-driven trainers.
Best smart turbo trainer on a budget
Specifications
Connectivity: ANT+, Bluetooth
Smart Max Resistance: 1,900w
Max gradient simulation: 15%
Compatibility: Shimano/SRAM 9/10/11
Weight: 14.5kg / 32lb
Reasons to buy
+
Easy to set up
+
Competitively priced
+
Smooth pedal feel
Reasons to avoid
-
Not as accurate as top models
Elite's Suito isn't as accurate or as powerful as the top end models, but can rival most of their features at a much more accessible price point making it a terrific turbo trainer for many riders. It is a sturdy and robust turbo trainer which combines realistic ride quality with ample resistance, without creating a racket.
The legs come with adjustable supports, so you can cater for a wonky floor or patio. Extended, they create a solid base, which we found in testing was reassuring even during full-pelt sprints. They can also be tucked away, meaning the Suito inhabits minimal floor space.
With a power meter accuracy of +/- 2.5% the Suito's margin of error is wider than the most advanced trainers, like the Drivo II which can boast power meter accuracy of +/- 0.5%. But the Suito does come at a significantly cheaper price.
Best non-direct drive turbo trainers
While the price of direct-drive turbo trainers is coming down, you can pick up a wheel-on smart trainer or standard trainer for a lot less. Here are some of our favourite options:
Tacx Flow Smart Turbo Trainer
Best non-direct drive turbo trainer all round
Specifications
Connectivity: Bluetooth Smart open and ANT+ FE-C
Smart Max Resistance: 800W
Max gradient simulation: 6%
Flywheel: Electromagnetic
Width of rear fork: Race 130 mm, MTB 135 mm. Adapters for other widths available (5mm QR supplied)
Weight: 9.41kg / 20.7lb
Reasons to buy
+
Easy to fold and move around
+
Lower priced than direct drive
+
Intuitive Tacx app
+
Sturdy build
Reasons to avoid
-
Max gradient simulation quite low
-
Less accurate than direct drive
The Flow Smart from Tacx strikes a great balance between connectivity and budget, allowing you to link it up to platforms like Zwift, TrainerRoad etc and enjoy the auto-changing resistance without the big price tag.
The max power is 800 watts, and max incline is 6% which will be enough for most riders, although some stronger cyclists may well find they max it out during a full pelt sprint, or find it slightly wanting on a climb.
The Flow Smart uses Bluetooth Smart Open and ANT+ FE-C to transmit data, has a magnetic resistance unit and provides cadence, power and speed outputs.
As well as being very competitively priced, the Tacx Flow Smart is very portable. The compact flywheel, which weighs 1.6kg, keeps the overall weight down to 9.4kg, making it very easy to fold away or transport in the back of the car for a pre-race warmup to be used as a standalone turbo trainer.
Best non-direct drive turbo trainer with KICKR features in a cheaper package
Specifications
Connectivity: Bluetooth Smart open and ANT+ FE-C
Smart Max Resistance: 1,500W
Max gradient simulation: 12%
Flywheel: Electromagnetic
Width of rear fork: 130mm and 135mm Quick Release and12x142 Thru-Axle with adapter(sold separately)
Weight: 17kg / 37.5lb
Reasons to buy
+
Same functionality as the Kickr
+
Much lower price point
+
Open API allows use of third party software
Reasons to avoid
-
Slightly less accurate power measurement
The Kickr Snap might not feel as smooth as the top end direct drive options, but it still offers a max power output of 1,500 watts before the resistance wavers, which is pretty hefty for most riders and makes it one of the best turbo trainers for a lot less.
It'll replicate climbs as steep as 12% which will be more than enough to provide a good workout. You can even combine with the rest of the Wahoo ecosystem, including the Kickr Climb for front wheel grade simulations and the Headwind Smart Fan.
The ANT+ and Bluetooth connectivity enables compatibility with third party apps for auto-resistance control, and read out of power, speed and distance without connecting any extra sensors.
We found the ride feel much more realistic than with many trainers, with the heavy freewheel providing plenty of inertia, and we didn't find get any significant wheel slip either. There's enough resistance for the most strenuous workouts too. The Snap also comes complete with a front wheel riser block, allowing you to level out the bike when it's in the trainer.
Elite Qubo Power B+ Smart Turbo Trainer
Best non-direct drive turbo trainer for travelling
Specifications
Connectivity: Bluetooth and ANT+
Smart Max Resistance: 900W
Max gradient simulation: N/A
Flywheel: Electromagnetic
Width of rear fork: 130mm and 135mm Quick Release and12x142 Thru-Axle with adapter(sold separately)
Weight: 8.7kg / 19.2lbs
Reasons to buy
+
Good ride feel
+
Quiet system when riding
+
Lightweight unit
+
Quite high resistance for type
Reasons to avoid
-
Accuracy not as good as direct drive
The Elite Qubo is a magnetic turbo trainer which comes with eight levels of adjustable resistance. It's ANT+ and Bluetooth ready, and if the likes of Zwift, The Sufferfest and TrainerRoad aren't up your street you also get a 12-month free subscription to Elite's own My E-Training app.
Overall, it's an impressive turbo trainer for the money.
The Elite Qubo uses what's called its Crono Compass system, where the rider's weight directly affects the power output, providing a more accurate ride feel. It makes a lot of sense.
The auto-controlled resistance can provide up to 900 watts of resistance and provide speed, power and cadence ride data.
The Qubo's red elastogel roller uses a polyurethane compounded that Elite developed which improves tyre adherence while reducing noise and limiting wear on the tyre.
It's one of the best non-direct drive turbo trainers that balances all the important features for a price point. Its weight and foldable capabilities, coupled with its low noise levels mean it's a great option for travelling and setting up in a hotel room or guest room.
Saris Basic Mag Trainer
Best non-direct drive turbo trainer for roadside warm up
Specifications
Connectivity: Bluetooth and ANT+ on Smart version
Smart Max Resistance: TBC
Max gradient simulation: N/A
Flywheel: Electromagnetic
Width of rear fork: 120mm, 130mm and 135mm Quick Release and 12x142 Thru-Axle with adapter (sold separately)
Weight: 8.7kg / 19.2lbs
Reasons to buy
+
Simple to set up and use
+
Low priced
+
Linear resistance feel
Reasons to avoid
-
No auto-controlled resistance
If you simply want a turbo trainer you can hook your bike up to and pedal away on, then Saris's Basic Mag turbo trainer should be on your list.
You can still use apps like Zwift alongside a speed/cadence sensor if you like, but you just won't get the variable resistance controlled by an app.
However, there are five adjustable levels of resistance to choose from and the linear magnetic resistance has a realistic feel so that the harder you pedal, the more the resistance ramps up.
Saris also makes a Smart Equipped version which has a built-in speed sensor so you can connect directly to your training app of choice, and even provides a one-month subscription to the Rouvy virtual training app, making it a great turbo trainer for anyone on a budget.
The super simple Saris is ideal for just getting on and riding - a perfect roadside warm up option.
What are the different types of turbo trainer?
Magnetic turbo trainers
The most basic turbo trainers, these use magnetic resistance to imitate the feel of the road, and are generally the cheapest due to their simplicity. There are, however, few smart versions available. Usually supplied with a manual resistance changer, their smart capabilities aren't as varied as others and can't be programmed to replicate a certain gradient or power resistance.
Wheel-on trainers of any type tend to eat through tyre rubber quickly. You can buy a trainer tyre for your rear wheel which is made of more resistant rubber, but this then means that you need to have a second wheel available or make a tyre swap when you want to venture out onto the road.
Fluid trainers
A step up from the magnetic trainers, fluid models are much quieter and have a progressive resistance curve, meaning the faster you get, the harder it is to ride. These are where the majority of affordable smart trainers will be based as there is more room to integrate smart capabilities to fluid trainers, have a good ride and still hit a lower price point.
Direct drive trainers
Direct-drive turbo trainers take the bicycle's rear wheel out of the equation by attaching directly to the drivetrain, hence the name. As the drivetrain is directly linked to the turbo trainer, taking its power measurements from the cassette rather than the tyre, direct drive is the most accurate type.
These turbo trainers are usually electronic and have to be plugged into the wall so that their motors can be powered and resistance can be automatically altered when an app is controlling it.
By forgoing the need for the rear wheel, you don't have to buy new tyres regularly, as you would with any of the wheel-on trainers.
What are the alternatives to smart turbo trainers?
Along with exercise bikes and smart bikes, there are also some smart interactive rollers available on the market.
Rollers are the perfect training tool for those who are a little more confident on their bike or riders looking to improve the efficiency of their pedal stroke.
Because you're actually riding your bike and moving around, rollers don't suffer the same issues with on-bike comfort as turbo trainers do, and the floating system included in most rollers absorbs abrupt movement that would otherwise send you flying over the edge.
The other benefit of rollers is the ease of bike mounting - just put your outdoor bike on and start riding. The Elite Nero Interactive, pictured above, is one of our favourites, providing up to 830 watts max resistance and a 7% grade. You can read about rollers and see more on our best rollers for indoor cycling page.
Why choose a smart turbo trainer?
For many people a standard magnetic wheel-on turbo trainer may do the trick, but going for a smart trainer will ensure a much more engaging training session.
Firstly, their smart functions mean that they can connect to a whole host of indoor training apps like Zwift, TrainerRoad and RGT Cycling. Apps like Zwift interact with your turbo trainer to measure your effort and apply it to a virtual avatar riding in a simulated world against other people over the internet - much better than staring at a garage wall.
Other apps like Rouvy and RGT Cycling enable you to recreate any real Strava ride you've done. For example, if you found the perfect training route but can't get out of the house, the trainer can realistically mimic every dip and climb. You can even replicate a ride in the Alps in your living room!
The other main benefit is that you can complete your session without being interrupted by traffic, stoplights, hills or corners. If you've planned anything from power-based steady-state intervals to sprint reps you ideally need a consistency of conditions that you can't always find on the open road.
If you are concerned about motivation, here are eight ways to make your turbo training sessions more enjoyable to keep you consistent with your indoor training.
Smart trainers also offer the chance to record more data than you may have thought even existed, on either one of the best bike computers or one of the best smartwatches for cycling. If you like numbers this is the way to go!
Starting off riding mountain bikes on the South Downs way, he soon made the switch the road cycling. Now, he's come full circle and is back out on the trails, although the flat bars have been swapped for the curly ones of a gravel bike.
Always looking for the next challenge, he's Everested in under 12 hours (opens in new tab) and ridden the South Downs Double in sub 20 (opens in new tab). Although dabbling in racing off-road, on-road and virtually (opens in new tab), to date his only significant achievement has been winning the National Single-Speed Cross-Country Mountain Bike Championships in 2019.
Height: 177cm
Weight: 67–69kg