Why is Shimano getting rid of its affordable road groupsets, and more discussed in this month's Tech of the Month
We dig into Shimano's massive shake up of its more affordable groupsets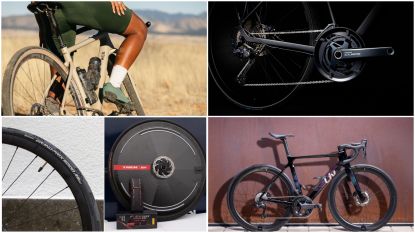 (Image credit: )
It's been a hugely tech-packed start to the year - we're only in March! Really makes you wonder what's going to be unveiled at Eurobike this year, given that the Tour de France is kicking off just one week later...
But no need to dream about what's coming up when Shimano has unveiled perhaps the biggest overhaul in its history, Pirelli and Conti have both revealed their latest racing rubber and Enve has jumped into the gravel market with its new MOG.
Then there's the new SRAM Force groupset, the new EnviLiv, Adidas' new road shoes and Victor Campenaerts making waves on a Classified rear hub. But that's not even to mention the new Giant Revolt X, Cannondale SuperSix and new Pinarellos that we've covered elsewhere - it's been a crazy time.
Finally, for this month's Garmin giveaway, we've got the Garmin Rally RK100 power meter pedals - read on or skip to the bottom of the page for more information on that.
Shimano Cues
In quite a surprising move, Shimano has decided to replace its entire mid-range groupset suite with a single ecosystem called 'Cues'. Shimano Cues will include options for nine, 10 and 11-speed drivetrains and the focus is all about interchangeability and compatibility.
Right now, Cues is all about making more sense of Shimano's flat bar offerings. Although we might more familiar with Shimano Sora as a nine speed groupset for drop bar bikes, Shimano does produce alternative shifters and brakes so that the gruppo can be used on flat bar bikes.
Shimano also has its Altus range, which is a groupset of nine speed mountain bike components - naturally for use on bikes with flat handlebars. But, and this is the crux, neither Sora nor Altus were fully mutually compatible.
So for professional and hobbyist mechanics across the globe, it's brilliant to see Shimano taking steps to simplify its range. We've also heard that a similar approach is going to be taken with Shimano's mid-tier drop bar groupsets in the coming years, so we're going to be hearing a lot more about Cues for a while to come.
For more information about the groupset, you can find our Shimano Cues launch story over here.
Pirelli and Conti tires
Pirelli and Continental have both launched tires bearing the 'TT' moniker, which is generally trotted out when a brand is prioritising all-out speed over cornering grip, longevity and puncture resistance - which can, to some extent, be sacrificed on the shorter courses of time trials and where marginal gains have their highest importance.
But, for both the Pirelli P Zero Velo TT and the Continental GP5000 TT TR, the brands are stressing their cornering capabilities - and the tires have already been used in road race stages, giving an indication of their puncture resistance and longevity.
Which does raise the the question, at what point does a TT tire become just a road tire, and do we really need so many different models? For now, we'll have to park that question there until we can test them all together, but it does make you think...
Finally, Continental has also released the GP5000 AS TR, an 'all-road' version of the GP5000 - a bit more durable and in a wider range of widths. For our first ride review of those tires and more information, you can find our Continental GP5000 TT TR and AS TR launch story over here.
Enve Mog
Two years after launching its first complete bicycle —the bespoke American-made Custom Road— Enve Composites unveiled its third model, the MOG, a purpose-built gravel steed made for racing, bikepacking and everything in between.
Now, although the Enve Melee road bike has been proven capable of racing off road, with Alexey Vermeulen riding one to victory in the Belgian Waffle Ride CA in May - the MOG is a more dedicated adventure machine, with wider clearance, slacker geometry, fork mounts and integrated storage - which now is becoming more common than novelty. Spesh, Trek and Orbea all offer this in their gravel platforms too.
For more information on the spec and availability, you can check our our Enve MOG launch story over here and for our first ride review of the Enve MOG, that's just over here.
Bike of the Month - Liv EnviLiv
Finally, for this month's Bike of the Month, we have the new EnviLiv - the flagship aero model of women's-specific bike brand Liv.
It's claimed to be (a catchy) 40 seconds faster over 40km at 40kph than the previous model and has been put on a similar diet to the the Propel aero bike of Liv's sister - or should that be brother? - brand, Giant. The tubes are much slimmer and its significantly lighter than the previous model, whilst still making those aero advances.
Naturally, the main thing that sets the Liv EnviLiv apart from the Giant Propel is the women's specific geometry. This not only takes into account the different bell-curve of heights between men and women, but also the differing body proportions - leg to torso ratios and so on.
Plus, of course, the EnviLiv has touch points which have been chosen to be more likely to suit most women - although there will always be personal preference still, as with unisex bikes.
For more information you can check out our Liv EnviLiv launch story just over here.
Competition
For this month's Garmin giveaway, we have the Garmin Rally RK100 pedals. It's a single sided power meter and is compatible with Look KEO cleats. Of course, as with the other Garmin Rally pedals, if you want to switch out the pedal body to accept a different shape of cleat then you can do so.
The beauty of the best pedal based power meters is that you can easily fit them to any bike and get riding after a simple calibration. The batteries in these pedals can last up to 120 hours and have a power accuracy of +/- 1 per cent.
To be in with a chance of winning, simply click this link or fill in the form below. We'll get in contact with the lucky winner by the end of this month. If you don't end up being the lucky one – don't worry, we'll be running it again next month.
Thank you for reading 10 articles this month* Join now for unlimited access
Enjoy your first month for just £1 / $1 / €1
*Read 5 free articles per month without a subscription
Join now for unlimited access
Try first month for just £1 / $1 / €1