Zwift launches Scotland, the new world designed specifically for the 2023 Esports World Championships
Zwift Scotland features five new routes for training and racing including a crit circuit in Glasgow, which will also host the real-life 2023 UCI World Championships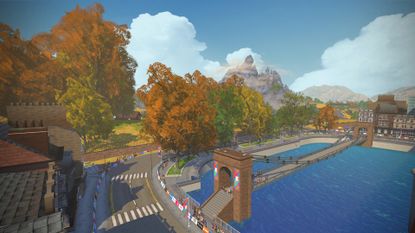 (Image credit: Zwift)
Zwift is to launch Scotland, its latest 'world' that was designed for, and which will host the UCI Cycling Esports World Championships on February 18.
The online fitness platform for cyclists (opens in new tab) has created five new routes, three of which will be used to help determine the 2023 Esports world champion.
In the first virtual-physical partnership of its kind, Zwift Scotland will host the Esports World Championships in February while in August Glasgow will play host to the real-life UCI World Championships (opens in new tab).
Zwift says its new world was "inspired by the city of Glasgow… as well as the beautiful, striking Scottish countryside" and will include cityscapes, ancient castles and natural wonders from lochs to mountain peaks.
In December when Zwift first teased the Scotland world (opens in new tab), the company's Chris Snook explained to Cycling Weekly: "The Scotland map is unique in that it is the first map we have designed specifically for competition format, in this instance the UCI Cycling Esports World Championships. Unlike previous maps with UCI connections, we haven't taken the road course and replicated it in Zwift. Instead we have built a course specifically for the needs of racing on Zwift, and taken inspiration from Scotland and Glasgow to 'decorate' it."
The five routes, which add up to 58.8 kilometres of new terrain, are:
Rolling Highlands - a 14.1km route with 105 metres of climbing. Zwift says the punchy terrain offers up plenty of places to attack during races, while the rolling hills and short steep climbs provide an ideal training ground too.
City and the Sgurr - 8.6 kilometres with 161 metres of climbing. Sgurr means "rocky peak" in Scottish Gaelic, and this route features Zwift's newest climb that's tackled in two directions. Zwift says the inclusion of roundabouts on both sides makes it "the perfect place for hill repeats, or very challenging racing".
Glasgow Crit Circuit – 3 kilometres with 33 metres of climbing. Zwift's latest crit course is set in Glasgow's city centre and features "short, punchy climbs, tight, twisty roads, and two arches".
Loch Loop – 8 kilometres with 71 metres of climbing. Zwift describes this loop as "a time triallists' paradise". It's mostly flat, taking in some of the Rolling Highlands route but skipping the bigger climbs. Zwift says the 5 miles route is "the perfect place for 5-, 10-, 15-, or 20-mile time trials or team time trials".
The Muckle Yin – 25.1 kilometres with 279 metres of climbing. The longest route of the five, Zwift says it "incorporates almost all of Scotland's roads in one single loop".
Initially Scotland will only be available for events and races, with Zwift users first chance to ride the new world coming during Stage 8 of the Tour de Zwift (opens in new tab)race, which takes place between February 3-12.
This opportunity is followed by Ride Scotland and Race Scotland events, scheduled from February 6 to March 7. Further to this, the ZRacing series will also be held on the Scotland map - and completing the event will unlock a Zwift Tartan cycling kit. From early March Scotland will be available for free ride, club events and meetups.
For more information visit zwift.com (opens in new tab)
Thank you for reading 10 articles this month* Join now for unlimited access
Enjoy your first month for just £1 / $1 / €1
*Read 5 free articles per month without a subscription
Join now for unlimited access
Try first month for just £1 / $1 / €1
Luke Friend has worked as a writer, editor and copywriter for over twenty years. Across books, magazines and websites, he's covered a broad range of topics for a range of clients including Major League Baseball, the National Trust and the NHS. He has an MA in Professional Writing from Falmouth University and is a qualified bicycle mechanic. He fell in love with cycling at an early age, partly due to watching the Tour de France on TV. He's a passionate follower of bike racing to this day as well an avid road and gravel rider.