What is the science behind the unreleased new Uno-X TT helmet? We ask the aero experts
Xavier Disley and Michael Hutchinson theorise about what might - or might not - make the most-talked-about lid the one to beat in 2023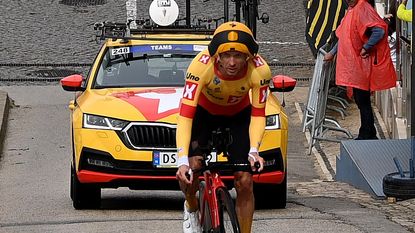 (Image credit: Getty Images)
The time trial helmet debuted by the Uno-X Pro Cycling team at the Volta ao Algarve (opens in new tab) final time trial has been ridiculed as "wildest" and "weirdest yet" by the cycling media. But in cycling aerodynamics we've come to realise that things generally look wild and weird for a reason.
The POC Tempor helmet received a similar reception when it was unveiled in time for the Danish team to use at the 2012 Olympics. OK, the Danish athletes didn't cover themselves and the helmet in glory, but the helmet made a triumphant return some years later thanks to Dan Bigham and his HUUB-Wattbike team, and the laugh was on the cycling media.
So, to avoid the same mistake 11 years on - and in the absence of any information from Sweet Protection - the helmet's manufacturer, despite reaching out - we asked Xavier Disley of AeroCoach (opens in new tab)and Michael Hutchinson, who is developing a skinsuit with the Irish national team ready for the Paris Olympics in 2024.
"You can see what they're trying to do with the split channel at the front," says Disley. "There's a high pressure area right in the middle of most aero helmets just above the visor. If you can reduce the pressure there by channelling the airflow out, around or away effectively, then that is often good.
"It can be done just with the shape of the helmet, as with the rare new Ekoi, or with internal channels."
Disley makes the point that what tests fast for one rider might be slow for another.
"Helmets are so individual that you really need to have them tested on a few people to form an opinion … whether it works for everyone or only in specific circumstances is unclear. The pitfall that companies sometimes fall into is when they test things like this only on one rider, or one mannequin and you end up designing a helmet just for that person."
Hutchinson, like Disley, suspects that whether the helmet works or not will depend on very small variations in angle and rider shoulder shapes.
"The aim of that front vent is to suck air from a high-pressure area into a low-pressure area behind the helmet, but my suspicion is it might be very variable from rider to rider."
Hutchinson highlights how the POC Tempor changed its aerodynamic properties once Dan Bigham modified the airflow inside the helmet so that the air sucked in through the POC's 'nostrils' passed straight out of the side 'gills' instead of over the rider's head inside the helmet. The relaunched POC Tempor is now manufactured with the sealed channel instead of the original design.
"That is what I assume they're doing with the Uno-X helmet," he says.
The Uno-X helmet looks to have a carbon strip sealing the channel through which the air passes without entering inside the helmet itself.
In Hutchinson's view, the large size of the new helmet could also play a key role in its aerodynamic performance."
"For years we messed about with low-volume helmets trying to make them as small as possible on the basis that small must be better, but sometimes really big helmets are very, very good.
"There are one or two production helmets around where the small and medium-sized aren't great but the large is very good - even if it's on a very small rider.
"Particularly track teams who are dealing with low yaw conditions are riding very big sizes of helmet. So the Uno-X helmet looks enormous but it might be tapping into the same thing."
Hutchinson concludes: "It might be brilliant, because aerodynamics is often like that. The POC helmet took Dan Bigham to say, 'hang on, what if we do this and this, we use it at a very low head angle and in certain conditions?' So it's not good to write things off too casually."
Hopefully we'll have some details from Sweet Protection shortly and maybe even a sample to review.
Thank you for reading 10 articles this month* Join now for unlimited access
Enjoy your first month for just £1 / $1 / €1
*Read 5 free articles per month without a subscription
Join now for unlimited access
Try first month for just £1 / $1 / €1
Simon Smythe is Cycling Weekly's senior tech writer and has been in various roles at CW since 2003. His first job was as a sub editor following an MA in online journalism. In his cycling career Simon has mostly focused on time trialling with a national medal, a few open wins and his club's 30-mile record in his palmares. These days he spends most of his time testing road bikes, or on a tandem doing the school run with his younger son.