UCI introduces mandatory 'height category' sticky labels for time trial and pursuit bikes
New downloadable labels to be the 'reference point for UCI commissaires' and must be visible on the top tubes of bikes in all UCI-sanctioned TT and pursuit events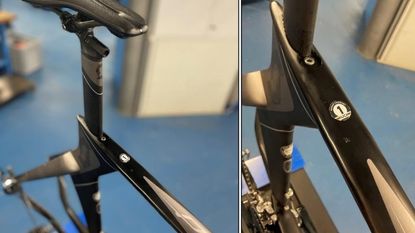 (Image credit: UCI)
Riders will be obliged to stick new UCI Height Category labels to the top tubes of their bikes following the world cycling governing body's introduction of the three new height categories for time trial and pursuit bikes this year (opens in new tab).
It has also released new infographics to make it easier for teams and riders to understand how the three height categories work.
In brief, the new rules for TT and pursuit bikes, filed under Subsection 1.3.023 of the UCI Regulations, separate riders into three height categories, with each one allowed a different measurement of the stack height measured from the middle of their forearm support to the end of their handlebar extensions.
For riders under 180cm, the maximum distance will be 100mm. Those between 180cm and 189.9cm will be allowed 120mm, while riders over 190cm will be permitted a reach of up to 140mm.
Now, the UCI's 'march of progress' style graphic is aimed at simplifying the categories and respective measurements.
Once the category is established and bike set up accordingly, the corresponding UCI Height Category label must be stuck onto the bike.
Downloadable from the UCI website (opens in new tab), the appropriate label must be present on a bike at all UCI-sanctioned individual time trials, team time trials and mixed relay time trials. And on the track for individual pursuits, team pursuits and 500m/1km time trials.
There are three labels. Riders under 180cm must stick on label 1, riders 180-189.9cm must use label 2 and riders over 190cm are label 3.
The stickers must be applied to the upper side of the top tube area and must be visible at all times, cannot be covered and should be resistant to regular cleaning as well as to "unfavourable weather and climate conditions."
The UCI supplies guidance and photographs to illustrate where the sticker ought to be placed (opens in new tab)on its website.
A bicycle not displaying a UCI Height Category Label "will measured by the UCI Commissaire under the Default Measurements as per Article 1.3.023."
The UCI's head of road and innovation Mick Rogers posted information on Twitter (opens in new tab) linking to where the labels can be downloaded, as well as tweeting the new infographic.
However, the new infographic didn't go down well with everyone, with one critic bringing up the old favourite, sock height: "If they [UCI] put as much effort into keeping riders safe as they do to updating prescriptive tech rules (TT position, sock height, stem angle etc) it might actually make a difference to the wellbeing of riders ... Riders DQd for puppy dog hands last year whilst race organisers dismiss safety concerns and route races in violation of rules reeks of double standards… all good tho cos we have TT infographics now."
Rogers shot back "Thanks for your input. We have a big task in front of us to create a systematic approach to safety for 700+ yearly races delivered by 400+ individual organisers operating in 100+ countries. We are working day and night and will need all hands on deck."
Check out the full infographic, including the one about minimum drop-bar width at the UCI's website (opens in new tab).
Thank you for reading 10 articles this month* Join now for unlimited access
Enjoy your first month for just £1 / $1 / €1
*Read 5 free articles per month without a subscription
Join now for unlimited access
Try first month for just £1 / $1 / €1
Simon Smythe is Cycling Weekly's senior tech writer and has been in various roles at CW since 2003. His first job was as a sub editor following an MA in online journalism. In his cycling career Simon has mostly focused on time trialling with a national medal, a few open wins and his club's 30-mile record in his palmares. These days he spends most of his time testing road bikes, or on a tandem doing the school run with his younger son.