Tech of the Month February: Airless tires, Campagnolo's place in the World Tour plus new tech from Specialized
We get under the skin of the new WorldTour season, discussing unreleased tech, team kits and the possible demise of Campag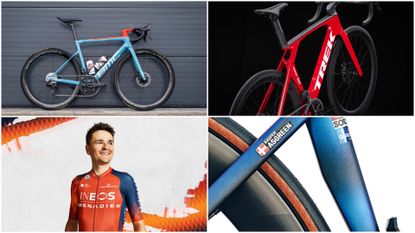 (Image credit: Future)
With the 2023 WorldTour now underway we discussed the trend for teams to race on yet-to-be released tech, putting a few of the products under the microscope.
We also delve into the good, the bad and the ugly of this year's team kits as well as debating the possible demise of Campagnolo on the professional stage.
Our Bike of the Month is one you'll also be seeing plenty of on TV this year; the new Trek Madone. The aero superbike, which cuts a pretty unique silhouette, is being ridden by the Trek-Segafredo men's and women's team in 2023.
Competition
For this month's Garmin Giveaway, we've got the Garmin Varia RCT715. It houses a 1080p camera and shoots at 30fps so you'll be sure to catch any close passes and reg plates while you're out on the road.
It'll be absolutely fine in the rain as it can survive being submerged up to a meter for 30 minutes. It also features Automatic Incident Capture that ensures it continues recording "before, during, and after" an accident.
To be in with a chance of winning, simply click this link or fill in the form below. We'll get in contact with the lucky winner by the end of this month. If you don't end up being the lucky one – don't worry, we'll be running it again next month.
Unreleased WorldTour tech
The start of the new racing calendar offers bike manufacturers an invaluable opportunity to test unreleased products in the heat of battle. It also gives us a chance to try to spot this new tech in the wild.
However, due to exhaustive race coverage and social media posts it's becoming less of a challenge. Last season we all had a good look at the new Cervélo S5 before it was released thanks to the success of the Jumbo-Visma riders who were putting the updated aero bike through its paces. And this year we've already seen the still unnamed Look bike being ridden by the Cofidis team rack up a couple of wins.
Specialized sponsors a number of WorldTour teams and are using them to trial products under the 'Project Black' banner. Details remain pretty vague but essentially it's about riders delivering feedback on a range of pre-production bits and pieces.
So what have we seen to date? Well, there's a new 3D-printed Mirror saddle and some new Roval aero bars that have already seen plenty of action, ridden by two of the world's best sprinters Fabio Jakobsen and Sam Bennett, both who've secured early season wins with the new integrated cockpit in play. Then there's the new S-Works Turbo tires, spotted on the bike of Kasper Asgreen, and with a tread pattern that looks like it's been designed for the rough roads of the Spring Classics.
Watch the video for our take on more unreleased tech you should be looking out for.
Is this the end of Campagnolo on tour?
If you're of a certain vintage you'll remember the days when shiny Campagnolo bits were commonplace on world tour bikes. Even if you're not, you only have to look at the record books to see the Italian brand's dominance, racking up 43 Tour de France wins compared to Shimano's rather paltry 11 - although the Japanese tech giants did take a hit when Lance Armstrong's seven wins were struck from the list.
But no more.
At the start of the 2023 WorldTour season only one team - Ag2r-Citroen - were using Campag groupsets. Given that 20 years ago that number was 12, the decline is rather shocking. Even the recent success of Tadej Pogačar, who won the 2020 and 2021 TdF riding Super Record EPS, appears fleeting. His team, UAE, have switched to Shimano for the season ahead.
So what's it all about? Expense? A shift in focus? We delve into Campag's strategy in more detail on TOTM.
The best and worst WorldTour kits
Revamped team kits are always a hot topic of debate as the new season begins in earnest. Which are the best? Who's got it very wrong? And are Ag2R still wearing brown shorts?
We discuss the merits of this year's offerings, including which riders appear to be dressed as frogs, who's gone retro and why colour fades are the season's must have design.
Bike of the Month - Trek Madone
This month's chosen one is the Trek Madone, otherwise known as the aero bike with the hole in it.
The newly designed IsoFlow technology is hard to ignore. Not only does it put a significant hole in the seat tube it's also credited with making the new Madone both lighter and faster. The former is due to the simplification of IsoFlow compared to the outgoing IsoSpeed, which allowed the rider to alter the level of compliance. The latter is thanks to a design that reduces drag in an area of the bike that's typically low-energy.
Interestingly Trek says other watt-busting advantages have been gained not just by redesigning elements of the bike but designing them to optimise rider position. Given that the person on the bike always contributes the most drag, it seems a sensible approach indeed.
Thank you for reading 10 articles this month* Join now for unlimited access
Enjoy your first month for just £1 / $1 / €1
*Read 5 free articles per month without a subscription
Join now for unlimited access
Try first month for just £1 / $1 / €1
Luke Friend has worked as a writer, editor and copywriter for over twenty years. Across books, magazines and websites, he's covered a broad range of topics for a range of clients including Major League Baseball, the National Trust and the NHS. He has an MA in Professional Writing from Falmouth University and is a qualified bicycle mechanic. He fell in love with cycling at an early age, partly due to watching the Tour de France on TV. He's a passionate follower of bike racing to this day as well an avid road and gravel rider.