Scott Foil RC Ultimate review - the Foil's paradox is finally answered
An excellent ride - but a truly exceptional price tag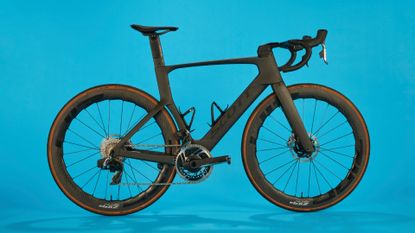 (Image credit: Future)
In all, Scott has done a great job with the new Foil. Increasing the comfort and lowering the weight has made it much more of a versatile all-rounder than the previous speed-obsessed model. The focus still remains on the aerodynamic performance and all-out speed on the flat - and it does feel extremely fast.
Reasons to buy
+

Very fast

+

Comfortable

+

Confident handling
Reasons to avoid
-

Still a little on the heavy side
Why you can trust Cycling Weekly Our expert reviewers spend hours testing and comparing products and services so you can choose the best for you. Find out more about how we test.
The Foil aero bike has been a stalwart of Scott's range since 2010, but it's also been something of a paradox.
Under the aegis of Mathew Hayman, in 2016 the Scott Foil became the first aero road bike to win at Paris-Roubaix, showing emphatically that aerodynamic efficiency can trump endurance comfort.
Fair enough. But at the same time, although the previous iterations of the Foil were trying to make concessions in the name of comfort (Hayman's Foil was able to fit 28mm tyres) - still when we had the 2021 model on test, we found it notably harsh for an aero bike.
This latest reworking, though, seeks to resolve that tension regarding the Foil's compliance - whilst also shaving weight and working to increase the aerodynamic performance for good measure.
Scott Foil RC Ultimate: the frame
This trifecta of improvements has given the Foil arguably the biggest transformation in its history, so it's worth spending a little time on each one and how that has influenced the design of the frame.
Let's start with the compliance. That chunky Kammtail seatpost doesn't exactly scream compliance, but look a little closer and you can see a large 'D-shaped' cutout which greatly reduces the cross-sectional area of the seatpost, thereby allowing for a greater degree of flex.
In my experience, the seatpost didn't flex quite as much as that on a Cervelo R5 - which is truly extraordinary - but it did have a noticeable amount of give and was significantly more dampening than some other attempts at point-of-saddle compliance developed by other brands.
As an aside, you can fit a rear light into that D-shaped slot for extra visibility without aerodynamic impediment - although that will set you back an additional $44.99 / £39.99.
Next, the weight. Scott says that the weight reduction has been achieved thanks to "a better carbon lay-up, a reduction in the number of carbon pieces and joints (30% fewer), and with incredible attention to the smaller details such as seatstays and seat clamp." In terms of the frame's claimed weight, it is 915g in a size 54cm compared to 800g for a Specialized Tarmac SL7 in a size 56cm.
But let's compare this latest Scott Foil in a size 54cm, with its SRAM Red groupset and 58mm deep Zipp 454 NSW wheels, against the Specialized Tarmac SL7 in a size 52cm with Shimano Dura-Ace and Roval Rapide CLX 51/60mm wheels.
The Scott Foil tipped the scales at 7.28kg, whilst the Tarmac SL7 limboed under the UCI weight limit at an impressive 6.6kg. Yes, the Spesh's frame is a size smaller and those wheels were slightly less deep - but that's nearly 700 grams between them, which is a significant amount even allowing for those differences.
Onto the aerodynamics and Scott has chosen to go deeper in pretty much all aspects of the frame - even going as far as having the seat tube hug the rear wheel in a way that's more common on TT bikes rather than road models. All together, the various tweaks and changes are said to add up to this new model being one minute and 18 seconds faster over 40km at 40kph than the previous iteration.
The build
This model is a pretty SRAM-heavy affair all round, with a Red AXS groupset (power meter included) and the range-topping Zipp 454 NSW mid-deep section wheels. The tyres are Schwalbe Pro Ones front and rear, but in 25mm and 28mm widths to better balance the aerodynamics and comfort.
In terms of the geometry, a 72.5 degree head angle, 412mm chainstays and a sizeable 70mm BB drop puts the Scott Foil a little more towards the controlled and stable end of the charts.
It's not an outlier by any means, but it's also not one of the zippiest and most aggressive models out there either. These tend to have head angles on the other side of 73 degrees, chainstays of 410mm or shorter, and a BB drop well into the 60s.
Regarding the stack and reach, these are in the ballpark of what you'd expect. Arguably, the Foil is a little taller than average, with a stack of 548mm (slightly higher than the Giant Propel or Cervelo S5). But it's not really significant - especially if you're not completely slamming your stem. The 389mm reach is a little longer than average, so you might need a slightly shorter stem than usual.
The ride
My first ride was in Italy and gave a good introduction to all areas of the bike. There was the fast and flat pacing round the Porsche test track, big climbs up into the hills and a network of surprisingly rough roads.
Fun whilst that was, it's my home roads in Wales that provided the best sense of the bike, as I know exactly what to expect from them.
Funnily enough, there's a similar variety - if not quite as exotic - of terrains ride from my door. The valley roads are great for getting a feel of the straight-line speed, whilst any excess weight or lack of stiffness - to some extent, I am 60kg! - gets found out on the brutally steep roads up and over the hills (gradient flattening hairpin bends being largely eschewed).
The Foil certainly felt fast on the flat, cutting a pace through the wind and needing noticeably less effort to keep ticking along than multi-thousand pound endurance bikes. On the gentle decline following the Taff river on its way out to sea, the Foil was just an absolute blast.
The tarmac of those valley roads is quite coarse, but with the pressures set at 60 and 55psi (as per SRAM's pressure calculator), high frequency vibrations were largely soaked up - which is likely another factor in contributing to the speeds I was able to maintain.
I didn't really notice the weight on the climbs I did in Italy, but those were rather shallower than the rash of over-20-per-cent ramps that I have local to me in South Wales. On those, the extra half a kilo over bikes dead on the UCI weight limit did make itself known - as you would expect.
Coming back down the hills, I really enjoyed the Scott Foil's balance of its geometry. 'Neutral' sounds unfortunately quite uninspiring - it's more of a blank canvas. You can pin it down the descents if you like, but it's not skittish and you don't feel like you're on a knife edge. It's a good balance in all.
Value and conclusion
Even compared to other World Tour bikes, the Scott Foil is expensive. The most expensive Trek Madone comes in at $13,199.99 / £14,500.00, whilst the range topping Specialized Tarmac SL7 is a 'paltry' $14,500.00 / £13,950.00, in comparison with $15,999.99 / £15,899.00 for the Scott Foil in this build.
Top end bikes are continuing to get ever further out of reach (not that they were particularly accessible even to begin with). But if there is a heartening flipside to draw out of this - with it costing ever more money to find ever more marginal gains, it means that bikes which are significantly cheaper aren't significantly different in terms of their performance.
In all, the increased comfort and lower weight has made the new Scott Foil a much more versatile bike, opening it up to a greater range of riding styles than ever before. It's still a speed weapon and an absolute blast on every loop - although the sky high price means most people would find a better return on investment from a model with fewer marginal gains.
Thank you for reading 10 articles this month* Join now for unlimited access
Enjoy your first month for just £1 / $1 / €1
*Read 5 free articles per month without a subscription
Join now for unlimited access
Try first month for just £1 / $1 / €1