Kask Sintesi review - a great mid-range all-rounder, aside from having no glasses port
The Kask Sintesi packs in premium features and a respectably low weight - it would be a perfect mid-range option if not for its lack of stowability for sunglasses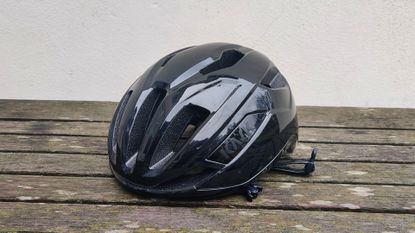 (Image credit: Joe Baker)
There are lighter, more ventilated and more aerodynamically sculpted helmets than the Kask Sintesi. But if you're looking for a comfortable all-rounder which comes in at a reasonable price, this is a particularly good option. There are premium elements, from the chin strap to the retention band, a reassuring focus on safety features and it comes in at an impressively lightweight for the price point.
Reasons to buy
+

Great value Helmet

+

Sleek design

+

Extra WG11 safety features

+

11 colours to choose from

+
Why you can trust Cycling Weekly Our expert reviewers spend hours testing and comparing products and services so you can choose the best for you. Find out more about how we test.
Kask's all-new Sintesi helmet ranks among the best road helmets we've tested. Its sleek, understated design blends in with multiple different riding genres, from fast road rides to more relaxed gravel explorations.
This, coupled with solid build quality and WG11 safety group compliance makes the Sintesi pretty attractive, and even more so with its $120 / £90 price tag.
Kask Sintesi: construction
Having built up a reputation for quality over the years, the bar for Kask's Sintesi helmet is set pretty high. Even so, when it comes to the build quality, those expectations have largely been met.
The seams between the inner EPS polystyrene inner construction and the outer polycarbonate shell are all very clean, making for a quality feel as well as polished aesthetic.
Kask's new 'ergo fit' retention system is nice and secure, too. The extensive vertical adjustability at the rear of the helmet allowed me to cradle my head from a nice and low position, making for a steadfast fit that felt very secure. That said, some additional padding here wouldn't go a miss, but the plastic of the retention band is still softer and more rounded than you find on some other helmet models.
But, overall, the padding in place is pretty good. Kask boasts of its use of both antistatic and antibacterial materials in the Sintesi, which are both nice inclusions. Although only tested in sub 15°C / 60°F conditions, the vents did suck in a noticeable amount of airflow and was comfortable on faster paced rides.
Another nice touch is Kask's somewhat signature synthetic leather chin strap - such a simple nicety which elevates the feel of the Sintesi, even if it is missing a magnetic clip found on other helmets, such as the Bontrager Solstice.
Although not featuring a MIPS liner, Kask has the Sintesi complying with the new WG11 safety testing (which is done alongside the usual CE EN 1078, CPSC 1203 and AS/NZS 2063).
Kask has adopted the internationally developed (CEN Developed) WG11 testing protocol across its range of helmets - with the focus being on minimising the effect of rotational impacts, which are strongly linked to brain injuries.
The ride
The Kask Sintesi is available in a medium, (52-58cm) and Large (59-62cm) and boasts 11 different colours to choose from. Although there are only those two sizes, the rear adjustment mechanism offers a lot of adjustability both in the circumference and vertical placement of the retention strap. The latter in particular meant I was able to get the rear retention centimetre perfect on my head, providing a comfortable yet 'locked in' feeling.
The only gripe I had was that on tightening the dial to reasonable tight degree, I would sometimes get irritation from the non padded plastic part of the retention system. That said, it's a pretty personal niggle, and only re-enforces the try-before-you-buy advice for helmets which we would always recommend.
As for the shape, though, Kask has gone for a very safe straight-down-the-middle approach to the fit. Not super narrow and oval, but also not overly spherical in shape. This feels to me slightly wider than the equivalent S-Works Evade, but maybe a slightly narrower fit than some of Giro's road going offerings.
All in all, though, the comfort and padding is pretty good, especially at this price point. And even on rougher terrain, I didn't have any problems with the anchoring of the Sintesi. The feel is definitely helped out by a competitive weight of 230g (M), too - that's not a lot of weight to be bobbing around on rougher roads and surfaces.
13 generously sized air inlets and exhausts did a pretty good job of keeping my head cool. Once again, though, one bone to pick here - no obvious spot for placing sunglasses in the vents. Not a deal breaker for everyone, but I love to have the option of a secure spot for the sunnies which isn't a rear pocket.
Value and conclusion
When you factor in the build quality, comfort and WG11 test protocol, $120 / £90 is great value for the Kask Sintesi. For example the Bontrager Stravos, a pretty similar helmet with Trek's Wavecel safety technology comes in at $104.99 / £99.99, but weighs a full 100 grams more than the feather weight Sintesi. This, coupled with a versatile sleek design, puts the Kask Sintesi right up at the top of the shortlist for helmets in this price point.
Thank you for reading 10 articles this month* Join now for unlimited access
Enjoy your first month for just £1 / $1 / €1
*Read 5 free articles per month without a subscription
Join now for unlimited access
Try first month for just £1 / $1 / €1
I have loved riding my bike since the age of three years old. Racing is my motivation for riding, with more than five years' experience on the road, four of them international.
I love the outdoors and enjoy a multitude of disciplines including road, touring/bikepacking, cyclo-cross, gravel and mtb trail riding.
I've also been an avid tinkerer from a young age, getting my bike down to 5kg for a junior national hill climb win in 2018.
In the last three years I have worked part time in a bike shop alongside my riding, which has helped develop my bodging into slightly more proper mechanics...