The best energy gels for cycling 2023: what to look for and five favourites
There's no doubting the benefit of downing a quick energy gel at vital points of a ride or race – here's a few of our favourites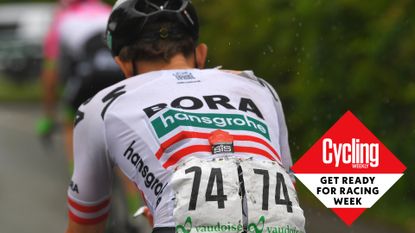 (Image credit: Getty Images - Tim de Waele)
Running out of energy during a ride or a race because you haven't eaten properly is easily done. Even if you don't completely bonk, or get the 'hunger knock' as Sean Kelly prefers to call it, if you've neglected to take on sufficient fuel your performance levels will suffer.
Eating and drinking little and often is your best defence. But what happens if you're competing in an event such as road race or time trial, where chewing anything more than the metaphorical handlebars can become a chore? That's when the humble energy gel comes into its own.
In essence, gels provide a carb heavy calorie kick designed to be quickly absorbed into the bloodstream. These sachets of gloopy paste are ideal when you need a quick hit or can no longer face the thought of eating any more real food or chewing away on one of the best energy bars for cycling (opens in new tab).
Due to their small size they can also be handy on longer rides, easily stored in a jersey pocket, leaving more room for a gilet, rain cape and tools. However, if you're not racing or competing in a gruelling gran fondo or sportive we'd suggest opting for normal food where possible as it's gentler on both your stomach and your bank balance.
We'll start off with our recommendations for some of the best energy gels for cycling. We'll then offer some advise on how and when to best use them to help you get the most out of your ride.
The Best Energy Gels for Cycling: Our top picks
Energy gel favourites will be dictated by subjective personal preferences around consistency and flavour – but we've picked five popular brands based on inclinations within Cycling Weekly's HQ.
1. High5 Energy Gel
Best for the environmentally conscious
Specifications
Serving size: 40g
Carbs per gel: 23g
Contains caffeine?: No
Suitable for Vegetarian/Vegan: Yes
Reasons to buy
+
Contains real fruit juice
+
Good consistency
+
Can be used before and during exercise
+
Available in six flavours
Reasons to avoid
-
Expensive if you take recommended dose
The High5 energy gel comes in 40g sachets, with each containing 23g of carbs. Some gels aren't that palatable due to their consistency and taste. High5 have sought to address both these issues by opting for a light consistency that's designed to go down smoothly combined with the use of real fruit juices for improved taste. Flavours include berry, orange and banana.
In our review we felt it delivered on both accounts. The banana flavour was authentic and avoided the sickly sweet taste that some gels deliver. The consistency was also good although we opted to use one gel per hour rather than the suggested three - choosing to get the rest of our nutrition needs from drinks and bars.
As a product the High5 gel should appeal to those who want their gels to contain natural flavourings while at the same time avoiding colourings and artificial sweeteners. There's no added caffeine here, which will be either a positive or a negative depending on your tastes and needs. They're also suitable for both vegetarians and vegans.
If you buy High5 gels in a pack they'll provide a prepaid envelope so you can return your gel wrappers for recycling.
Read more: High Five Banana Energy Gel full review (opens in new tab)
2. SIS Go energy gel
Best for hydration
Specifications
Serving size: 60ml
Carbs per gel: 22g
Contains caffeine?: No
Suitable for vegetarian/vegan?: Yes
Reasons to buy
+
Convenient source of carbohydrate
+
Less sickly than other gels
+
Can be consumed without a drink
Reasons to avoid
-
Taste is not for everyone
-
Expensive
The GO Isotonic gels from SIS have a more watery consistency than others available on the market. At 60ml, they're bulkier in the pocket but go down easily.
The carbohydrate source that SIS products are based on is maltodextrin – which requires less water to be effective, reducing the need to follow it up with drinks, and thus the chances of bloating. SIS says the source also cuts down on the likelihood of gastric issues when compared with simple sugar-based options.
Each gel delivers 22g of carbohydrate within an 87 calorie dose, and they're suitable for vegetarians and vegans.
We found that SIS's claim that you'll need to consume less water when using its GO Isotonic gel to be true (opens in new tab). We were able to comfortably consume them in isolation without feeling like we needed to take a few gulps of water afterwards. To achieve this the gel's are far less viscous in their consistency - if gloopy gels aren't to your liking then you may find that the GO Isotonic gels are well suited to your tastes.
SIS also produces a GO Energy+ Electrolyte Gel which provides all of the above but also contains the essentials lost via sweat - in this case 118mg sodium, 9.5mg potassium and 1.5mg magnesium per gel. Replenishing these salts and nutrients can reduce the chances of cramp. There are caffeine versions of each, delivering 75mg per sachet.
Read more: SIS Go energy gel full review (opens in new tab)
3. Torq Energy Gel
Best for energy density
Specifications
Serving size: 45g
Carbs per gel: 30g
Contains caffeine?: No
Suitable for vegetarian/vegan?: Yes
Reasons to buy
+
Delivers 30g carbs
+
Also contains 5 key electrolytes
+
Made with natural flavours
+
Unique flavour options
Reasons to avoid
-
Expensive if consumed using recommended dose of 2-3 gels per hour
When it comes to distinctive flavours Torq gels take the biscuit. Or actually the Cherry Bakewell. And if that café stop classic isn't to your liking there's also Lemon Drizzle, Apple Crumble and Rhubarb & Custard.
But apart from delivering flavours straight from a desert menu, what are the other potential benefits of this particular gel?
Torq uses a 2:1 Maltodextrin:Fructose carbohydrate mixture, which studies suggest can increase absorption capacity. Each sachet delivers 114 calories and 30g of carbs per 45g serving. You also get five key electrolytes: sodium, chloride, magnesium, potassium and calcium.
The consistency or texture is listed by Torq as 'wet'. Even still it recommends that the gels are used in conjunction with its energy drinks. If you prefer a gel that can be used in isolation then the SIS GO product could well be a better option. However, with regards to a carbs-to-weight ratio, the Torq gel does deliver a pretty big punch.
The majority of the gels are free from caffeine, but the Forest Fruits and Banoffee gels contain 89mg of caffeine, delivered via the plant guarana.
4. GU energy gel
Best for compact size
Specifications
Serving size: 32g
Carbs per gel: 21-23g (depending on flavour)
Contains caffeine?: Depends on the flavour
Suitable for vegetarian/vegan?: Yes
Reasons to buy
+
Smaller package size is easier to carry
+
Wide choice of flavours
+
Suitable for vegans
+
Gluten free
Reasons to avoid
-
Thicker texture may not suit everyone
GU by name and, well, goo, by nature. These gels are pretty thick in texture and sit at the opposite end of the consistency scale to the watery SIS GO product.
At 32g per serving they're smaller than many gels on the market. However, they pack a punch, delivering 100 calories and 22 grams of carbs in this reduced-size. Hence, we imagine, the reason for the gloopy texture.
The thicker consistency, in Cycling Weekly's collective opinion, is more suited to endurance-based activities than high-intensity races - but this will mostly come down to individual preference. I personally found the chocolate flavoured options too much to digest while in motion.
You can buy GU gels as individual sachets as well as packets with 15 servings in, which can be dispensed into a re-usable five serving pack, saving on packaging and stickiness.
There's added potassium and sodium in each sachet. Some flavours include caffeine, but dosage varies – Espresso Love carries 40mg whilst Chocolate Peanut Butter has 20mg.
5. OTE energy gel
Best for sensitive stomachs
Specifications
Serving size: 56g
Carbs per gel: 20.5
Contains caffeine?: No (though caffeine versions are available)
Suitable for vegitarian/vegan?: Yes
Reasons to buy
+
Designed to be kind to your stomach
+
Gluten free
+
Added electrolytes
Reasons to avoid
-
20g of carbs is lower than some rival gels
OTE gels are designed to be kind to your stomach. This will be music to the ears of anyone who's suffered with tummy troubles thanks to (over) consumption of gels.
Certainly the texture of the gel seems to be designed to go down easily. With a liquid-like consistency, they're well suited to high-intensity efforts, and real fruit juices provide tasty flavours without putting too much stress on your gut.
They're gluten, dairy and soya-free, and also fine for vegans – and OTE provides two perforated tear strips, so you can sip of gulp depending on your needs at the time. The regular gels are caffeine free. However there are caffeine varieties, which provide 50mg of 'rocket fuel'.
As well as delivering just over 20 grams of carbs per servings OTE's gels also contain electrolytes to help replace the salts you've lost while sweating. Combined with the thinner consistency this points at OTE gels being a good match for hot days in the saddle.
How many energy gels should I consume?
Energy requirements vary between individuals, increasing with intensity. The general rule of thumb is to feed yourself with one gram of carbohydrate per kilo of body weight, each hour – so a 60 kilogram individual should aim for 60 grams an hour, while an 80kg rider would need around 80g.
Consuming too much carbohydrate means it'll be surplus and go to waste – however, some manufacturers mix their glucose with fructose (fruit sugar) – and research has shown that this can increase absorption to 90g an hour.
Some gels come with additives such as caffeine. Studies have shown that caffeine can boost performance when administered in the correct dosage - but the milligrams per average cup of coffee can vary wildly. The amount in a gel will always be uniform and thus dosage can be properly tailored to requirement.
There's one other really important thing to remember: make sure you take your empty packets home. Cycling Weekly are fed up of seeing discarded used gels out on the lanes, even if they accidentally fell out. Let's leave no trace when we go out riding.
How long do energy gels take to kick in?
This will vary from person to person. We all absorb carbohydrates at different rates but regardless of this the process is the same.
It starts with amylase. It's an enzyme that's found in your mouth and whose job it is to break down the starchy carbs found in the gel. After this another enzyme, pancreatic amylase, takes up the slack as the gel moves into your small intestine. After that it's down to transporter proteins found in the gut. They absorb the glucose, helping to pass them into the blood stream.
Fortunately gels are designed to act quickly, delivering you the energy you crave in quick time - this could translate to a few minutes for some or perhaps 15 minutes for others.
What's the difference between energy gels, drinks and bars?
There's plenty of talk around fuelling your rides with fat or even adding protein – but most nutritionists still argue that, during exercise, carbs are king. You'll need to top up your carb stores on rides over 90 minutes; anything shorter and your body can usually sustain itself on existing reserves.
The best energy bars, gels and drinks all provide carbohydrates and all three products have their place. If you're unsure of what you should be eating and drinking to best fuel your rides you can also check out our guide to nutrition for cycling.
Energy drinks are the quickest to be absorbed but are designed for repeated 'top ups' via regular sips. The 100-200 calories and approx. 20g of carbohydrate per sachet will be spaced out over the hour-plus it takes you to get through a bottle. As a sweet bonus, they contain added electrolytes to replace those lost through sweat.
Gels, meanwhile are the second quickest to be absorbed but are taken in doses – delivering around 100 calories in one go, making them ideal for a quick surge when you need it.
Energy bars are usually slower release – but require breaking up and chewing, so they're best for endurance rides.
Michelle Arthurs-Brennan is a traditional journalist by trade, having begun her career working for a local newspaper, where highlights included interviewing a very irate Freddie Star (and an even more irate theatre owner), as well as 'the one about the stolen chickens'.
Previous to joining the Cycling Weekly team, Michelle was Editor at Total Women's Cycling. She joined CW as an 'SEO Analyst', but couldn't keep her nose out of journalism and in the spreadsheets, eventually taking on the role of Tech Editor before her latest appointment as Digital Editor.
Michelle is a road racer who also enjoys track riding and the occasional time trial, though dabbles in off-road riding too (either on a mountain bike, or a 'gravel bike'). She is passionate about supporting grassroots women's racing and founded the women's road race team 1904rt.
Michelle is on maternity leave from July 8 2022, until April 2023.